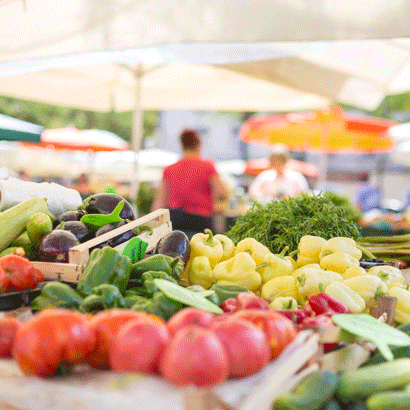 Happy National Farmers Market Week! August 6-12 is National Farmers Market Week, a time to recognize and celebrate the vital role farmers markets play in their communities.
NRPA proudly supports park and recreation agencies to serve as Community Wellness Hubs that advance community health across seven dimensions of well-being. Farmers markets also support all seven dimensions of well-being and bring significant value to a Community Wellness Hub. NRPA is currently leading a second cohort of agencies in our Farmers Markets in Parks and Recreation Community of Practice (CoP). We asked members of the 2022-2023 CoP how they see their markets supporting the seven dimensions of well-being. The following are some examples of how their markets support each dimension:
Cultural
Creating multilingual marketing materials and providing interpreter assistance for vendors and patrons
Bringing culturally diverse food and products to the market
Hosting cultural programs through food and market events (i.e., Pride Month celebration, Hispanic Heritage Month dinner, etc.)
Encouraging vendors to support different cultures by offering kosher or halal food options
Economic
Supporting small businesses and new entrepreneurs as they build their businesses
Hosting producer-only markets to keep money within the community; supporting local foods = supporting the local economy
Accepting nutrition assistance benefits like SNAP, WIC and EBT matching programs
Emotional
Welcoming live music, food trucks and customer/vendor feedback to create a safe and fun environment for visitors
Providing sensory bags to help visitors regulate their emotions at the market
Hosting artist showcases and leading community art activities at the market
Offering safe spaces of intergenerational connection for producers and customers
Leading free yoga classes at the market
Creating a market vendor policy that encourages open communication and discourages gossip/negative talk
Environmental
Hosting markets outdoors to bring community members outside and appreciate food grown in their community
Encouraging vendors to provide reusable packaging from renewable sources
Educating shoppers about what food grows in their region and the seasonality of their foods
Offering composting, battery and holiday light recycling for the community
Hosting environmental health education during market days
Intellectual
Providing cooking demonstrations, nutrition education, mobile libraries, financial literacy classes, art demonstrations and vendor-led classes on food foraging and preparation of their products
Creating opportunities for young farmers and vendors to learn from established vendors
Inviting local schools to bring educational programming such as STEM activities and demonstrations
Developing farmers market bingo and scavenger hunt activities to encourage visitor engagement with vendors, community organizations and educational opportunities at the market
Partnering to provide education from community-based organizations and community health workers at the markets
Physical
Leading physical activity programs like Zumba, fitness demos, yoga and park walks during the market
Sharing healthy recipes for the nutrient-rich fresh market produce with shoppers
Establishing health care partnerships to bring local clinics to the market to offer free screenings, blood drives and encourage healthy choices
Social
Planning weekly concert series at the market to encourage shoppers to share dinner and entertainment with neighbors
Bringing people together and using the market as a meeting place for walking and running clubs
Promoting community events at the market for visitors to connect with other social events and programs
As one member stated, "Farmers markets grow community," and parks and recreation is where community grows. If your agency doesn't manage a farmers market, celebrate your local community market this week! To learn more about farmers markets in parks and recreation, visit nrpa.org/farmersmarkets and see how park and recreation agencies are partnering and hosting farmers markets in our Farmers Markets and Parks and Recreation Story Map.
To learn more about the benefits of farmers markets, click the infographic cards below:
Liliana Ruiz Fischer (she/her) is a program manager at NRPA.