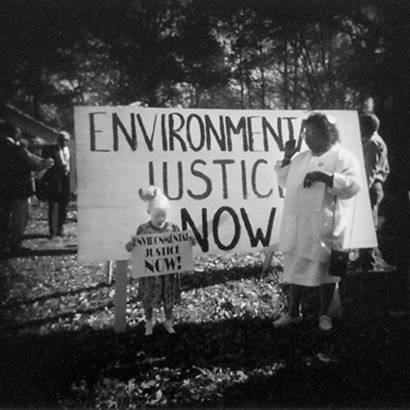 Robert García, NRPA Board Member, Founding Director and Counsel of The City Project, and guest writer Marianne Engelman Lado, Clinical Professor of Law at Yale Law School and Senior Staff Attorney at Earthjustice, share their insight and expertise on the impact of the EPA's EJ 2020 Action Agenda on civil rights and environmental justice.
The U.S. Environmental Protection Agency (EPA) released its EJ 2020 Action Agenda, which lays out EPA's strategy to ensure compliance with environmental justice laws and principles in the next four years. The goal is to ensure equal access to a healthy environment where people live, learn, work, and play, and to the decision-making process. EJ 2020 prioritizes action on lead pollution, clean water, air quality, and hazardous waste sites, which all too often disproportionately affect communities of color and low-income communities.
EJ 2020 also calls for concrete actions to ensure access to parks, recreation, and healthy active living, as well as climate justice. We agree.
This agenda shows what EPA can do to promote equal justice. This includes data analysis, providing guidance to clarify legal obligations, grantmaking, rulemaking, and permitting, processing administrative complaints, termination of funding, and referral to the U.S. Department of Justice for access to the courts.
As an example, EJ SCREEN, EPA's online mapping and data tool, is one of the exciting developments at EPA over the past few years. EJ SCREEN provides national data at the census tract level covering toxics and pollution, health vulnerabilities, demographics based on race, color, or national origin, and income. Very importantly, EJ SCREEN's inclusion of green space reflects EPA's recognition that parks and recreation are legitimate environmental justice and civil rights values. Through EJ 2020, EPA recognizes the need for making data based on race, ethnicity, and income publicly available as part of a framework to plan for and measure environmental justice compliance.
Climate change is an environmental justice issue because communities of color and low-income communities are disproportionately harmed by extreme weather conditions. EJ 2020 encourages states to include environmental justice analyses in their clean power plans. Indeed, EPA needs to require states to do so.
So we commend EPA for its ambitious plan. At the same time, progress toward environmental justice also requires strong civil rights enforcement, and EPA's next steps should include strengthening its civil rights compliance and enforcement effort. EPA for too long ignored or marginalized communities of color and low-income communities. Disparities in exposure to polluting sources and access to clean water and clean air call for EPA to do more and faster to enforce civil rights laws.
Background on Environmental Justice and Civil Rights
Parks, recreation, pools, schools, and beaches have been core civil rights issues since the beginning of the Civil Rights Revolution. In Watson v. City of Memphis, 373 U.S. 526 (1963), for example, the U.S. Supreme Court upheld equal access to parks under Brown v. Board of Education, 347 U.S. 483 (1954), which held that separate schools are inherently unequal and violate equal protection and human dignity.
Way back in 1996, President Bill Clinton signed Executive Order 12898. According to the Order, environmental justice means the fair treatment and meaningful involvement of all people regardless of race, color, national origin or income with respect to the development, implementation, and enforcement of environmental laws, regulations and policies.
The Order rests on Title VI of the Civil Rights Act of 1964 and its regulations as well as environmental laws. Title VI prohibits discrimination based on race, color, or national origin by recipients of federal financial assistance and supports equal access to publicly funded resources. Title VI and its regulations prohibit both intentional discrimination and actions, policies and practices with unjustified discriminatory impacts, regardless of intent.
Intentional discrimination is commonly thought of as "smoking gun" Jim Crow discrimination, even though intent covers more than the most egregious forms of segregation. We now know that despite our best efforts, the problem of discrimination is complicated and we are not always aware of the ways in which race and ethnicity play a role in our actions.
What it Means
The prohibition against unjustified discriminatory impacts plays an important role in moving the nation toward equal opportunity in distributing environmental benefits and burdens. We both work with communities across the country that are coping with high asthma rates, polluted air, and worries about whether they can drink their water because they live in the shadow of multiple sources of pollution – refineries, power plants, industrial hog operations producing tons of manure each year, and toxic rivers.
All of this is often exacerbated by not having access to parks and other safe places for children to play and breathe fresh air. The discriminatory impact standard allows people to counteract disguised animus, unconscious prejudices, and implicit bias that may escape easy classification as intentional discrimination. A thoughtless policy can be as unfair as, and functionally equivalent to, intentional discrimination.
Opportunities for More
Environmental justice and health victory by US EPA working with grass roots leaders in the Baldwin Hills and South Central L.A. to eliminate noxious odors, create parks, and clean up the sewer system through a $2 billion court-ordered settlement agreement against the City of Los Angeles.
EJ 2020 does mention Title VI and its relationship to environmental justice, but it does not go nearly far enough to ensure compliance and enforcement. The U.S. Commission on Civil Rights recently issued a scathing report on the need for EPA to enforce Title VI and 12898. To do better, the Commission recommends increased staffing, training, responsibility, accountability, and funding for EPA's Office of Civil Right (OCR), as well as concrete changes in the ways EPA does business. This includes, for example, improving participation by communities that raise Title VI claims.
EPA has to more fully integrate civil rights enforcement into all its environmental justice work. and strengthen OCR. Every EPA senior official, attorney, program office, and regional office needs to ensure compliance and enforcement through sharing of knowledge and experience. EPA needs to set Title VI enforcement goals, and set a timeline for developing guidance on how OCR should work together with others.
EJ 2020 provides for annual progress reports on environmental justice compliance to promote its goals, which is an important step in the right direction.
Other federal agencies provide best practice examples for environmental justice and civil rights enforcement and compliance. The Federal Transit Administration, National Park Service, US Army Corps of Engineers, and Housing and Urban Development provide best practices for a policy and legal planning framework to promote equity, avoid discrimination, and ensure compliance and enforcement, for example. These frameworks clearly express what compliance with civil rights law requires from agencies and federal funding recipients, and what communities are entitled to.
For too long at EPA there has been a culture of not enforcing civil rights and environmental justice laws. That must stop now in favor of a culture of compliance, enforcement, equal justice, respect, and human dignity for all. EPA must demonstrate a new commitment to civil rights right now by resolving outstanding complaints, making findings of discrimination where appropriate, and conducting compliance reviews. This includes reviews of funding requests.
For example, the City of Los Angeles has an outstanding request to EPA for brownfield funding along the L.A. River. Advocates are offering to work together with EPA and the City on a Title VI compliance and equity plan. The City acknowledges disparities in health and park access for people of color along the river and throughout the city, and there are decades of studies documenting these disparities. This is a perfect opportunity for EPA, the City, and diverse advocates to implement EPA's environmental justice vision and a new commitment to civil rights now.
The demographics of the nation are changing. People of color and low-income people are consistently among the most dependable supporters of measures to protect the earth and its people. And they vote.
President Barack Obama and his Administration have made significant progress to promote environmental justice for all, especially in the past two years. The new administration must build on that momentum and demonstrate not only hope but real change starting in the first hundred days and beyond. This should include full implementation of EJ 2020 and charting a new course for implementation of Title VI.
Robert García is an NRPA Board Member and Founding Director and Counsel of The City Project.
Marianne Engelman Lado is an Attorney at Earth Justice.