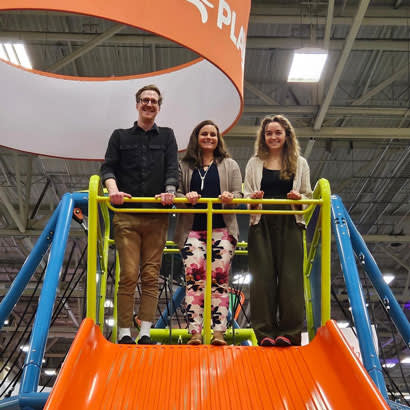 Pictured: Cort, Cara and Christina slide down a giant slide in the Exhibit Hall at the 2023 NRPA Annual Conference in Dallas.
I'm really excited for today's episode because I am joined by my colleagues and new co-hosts, Christina High, NRPA's marketing specialist, and Cara Myers, NRPA's marketing and engagement manager. I'm really looking forward to this new era of Open Space Radio, and as listeners may know, it's been a while since I've had co-hosts.
So, we thought it would be fun to sit down together for an episode and discuss what we're looking forward to, what you can expect on the show in future episodes, and share some of our experiences and takeaways from the 2023 NRPA Annual Conference in Dallas a few weeks ago.
And, before we jump into the episode below, I'd be remiss if I didn't give a shoutout to Roxanne Sutton, who is the Open Space Radio host emeritus and original creator of this podcast – I'm so grateful that Roxanne brought me onto the show back in 2017 and not only showed me the ropes, but also helped create such a good foundation for what the show is today.
Tune in to our full conversation below to hear what we're planning for this next era of Open Space Radio (including asking for more feedback from you, the listener!). You'll also learn:
Why Christina and Cara are excited to join Open Space Radio
What we enjoyed about the 2023 NRPA Annual Conference
What we're excited about when it comes to the future of parks and recreation
Topics we're excited to explore on future episodes of the podcast
How we're planning to be more intentional about the content and stories we share, ensuring the podcast is what YOU want it to be
Our answers to listener-submitted questions, and much more!
Listen to the episode for the full story.

You can also listen to Open Space Radio on Spotify, Stitcher, iHeartRadio and other podcast services.
Share Your Feedback with Open Space Radio
We want Open Space Radio to be a podcast about what you want it to be about. Please share any feedback you have about the show with us. It's anonymous, so be as honest as you would like. Thanks for taking a moment to help us bring the best parks and recreation storytelling experience to your ears!