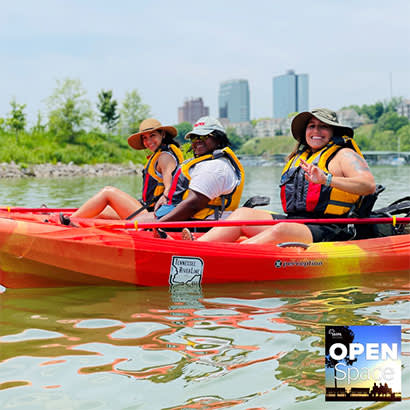 Pictured left: A kayaking event on the Tennessee River. Photo courtesy of Tennessee RiverLine.
The August issue of Parks & Recreation magazine is out now, and on today's episode, we're diving deeper into one of this month's feature stories, titled "A River Runs Through It." The article explores the Tennessee RiverLine and the partners who worked to advance stewardship and equitable access to the 652-mile Tennessee River.
Joining me today is the author of the article, and previous guest of Open Space Radio, Kathleen Gibi, the executive director for Keep the Tennessee River Beautiful. Kathleen is also a member of Parks & Recreation magazine's Editorial Advisory Board. We're also joined by Brad Collett, the director of Tennessee RiverLine, to have a conversation about the good work that's happening on the Tennessee River and in the surrounding communities.
Tune in to the full episode below to learn more about the Tennessee RiverLine's vision of establishing a continuous system of paddling, hiking and biking trails that spans the route of the 652-mile Tennessee River.
You'll also learn:
Why so many people turned to the water during the COVID-19 pandemic.
How the Tennessee RiverLine can be used by visitors spending weeks exploring or those just taking day trips to enjoy a certain section of the river (think the water version of the Appalachian Trail).
How Tennessee RiverLine is ensuring all people have equitable access to the river and recreational opportunities it provides.
What a system like the Tennessee RiverLine means for all the communities along the river that it connects.
What efforts are being made to enhance stewardship of the river to help keep it clean, maintained and protected.
How partnerships have been critical in making this vision a reality, and more!
Learn more:
Listen to the episode for the full story.