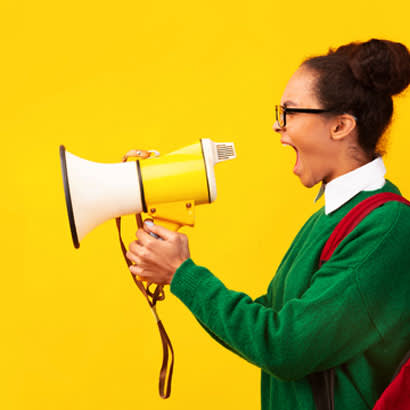 Youth are one of the most powerful yet under-utilized community groups. So, how can park and recreation professionals engage with youth in their community to serve as leaders, inspire change, and support critical life skills and career readiness?
NRPA and the Alliance for a Healthier Generation recently had the opportunity to hold a discussion with three inspiring youth leaders. Ilana Adlee is a youth ambassador for the American Heart Association and has a personal connection to the power of food access and overall health and well-being. Giana Darville, a youth board liaison for the Truth Initiative, has experience advocating on Capitol Hill for youth health interests related to nicotine and opioid use, and has a lot to share on programs and communication that engages teens. And Emma Bittar is a youth ambassador with the School Based Health Alliance, and has experience working with school-based healthcare clinics, elevating youth voices when implementing health clinics, and serving as a peer health educator.
Engaging Youth
What's the first step to ensuring you have a youth voice as part of your agency planning and programming? First, identify your goals and what you want to address through youth leadership, then identify who will be impacted by those goals. If you have goals already set up, evaluate them to ensure your programs have representation.
Once your goals are established, look for leaders in your community. A great place to start is with youth already engaged in your programs and ask for their input. Adlee suggests simply asking, "I want to know how you feel about XYZ." To engage with new youth leaders, consider other sources of engagement, like Girl and Boy Scouts, volunteer organizations, 4H and church choirs. Once you have new engaged voices, ask them to invite their friends to be involved as well.
Marketing is also a powerful tool. Instagram is a hot social media platform, but consider posting opportunities across all platforms, including LinkedIn, to reach a wider network. And don't skip fliers and word of mouth — these "old school" ways are just as valuable and can reach those who may not readily have access to technology, or who appreciate a more personal invitation.
As you form your youth leadership team, be aware that representation matters, but one person is not representative of a whole community. It's important to have a wealth of diversity in your group to engage as many different voices and perspectives as possible.
Empowering Youth
From there, consider both paid and volunteer positions. Both roles can be presented not only as ways for youth to share their voices with the community, but as career pathways. Park and recreation professionals can serve as mentors to empower youth to find what they're passionate about and align that with tangible skills that not only make a difference today, but can be translated into career opportunities in the future.
As you develop your youth leadership team, think about opportunity levels. Offering a variety of ways to be engaged is a great way to meet the needs of your younger community members who have varying schedules. Options can range from participating in a meeting once a month, to having a few hours of work per week, to having a daily time dedicated to a specific project. Be sure to create a consistent schedule in order to respect everyone's time and set clear expectations.
It's so important to acknowledge that youth have powerful voices and insight, and that can absolutely be used to support your work and your community as a whole. By giving youth leaders a platform to share ideas, express their opinions, and be met with validation and openness, you're empowering a whole generation.
Also keep in mind that everyone has different comfort zones, and those can and should be respected. If a youth leader is a strong writer, invite them to express their thoughts through blog posts or magazine articles. If someone is a great public speaker, encourage that by asking them to host forums or present during external meetings.
Recognizing Youth
If your youth leaders are volunteers, don't skip recognizing them. A gift card is a great thank you, but even better way to recognize them is through support. As a park and recreation professional, your mentorship is invaluable, so offer to keep that relationship past the length of the volunteer opportunity. Offer to write a letter of support as youth take the next step in their journey, help with a resume or prepare interview talking points. Socially recognize the ways in which their work is making a difference. If a youth leader is doing their job well, give them more responsibility and the opportunity to take ownership of an initiative. Or, if the situation allows, translate their work into a paid position.
In that transition, don't make assumptions about what youth may or may not know. Even if you've been working together for a while, start at the beginning and work up from there, and offer support through both team and one-on-one meetings to regularly check in.
Engaging and empowering youth leaders is a pivotal way to support the work of your agency in addressing the health and well-being of your community, as well as nurture a demographic that is often overlooked. We invite you to share how you're working with youth in your community and inspire others to do the same.
Maureen Neumann is an NRPA Program Manager.