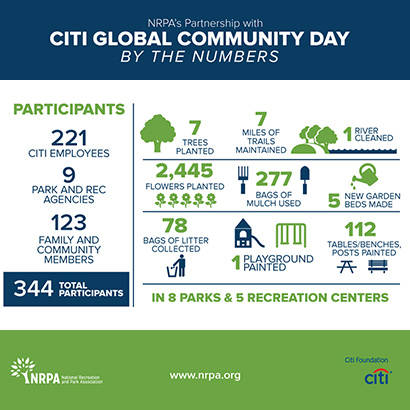 Local park and recreation agencies provide an ideal setting for employee engagement and volunteerism. They offer opportunities for people of all interests and abilities, and they are deeply rooted in the local community's needs and interests.
In June, NRPA partnered with the Citi Foundation to host Global Community Day service projects at local park and recreation agencies in nine cities across the country. Citi employees, their family members and other community volunteers participated in park maintenance/beautification, trail and river clean up, and other special projects that helped revitalize local park spaces.
The next time you are looking for volunteers to help with projects at your parks and recreation centers consider enlisting the help of local businesses in your community.
Read more about our successes below:


Success Stories
The employees from Citi were so amazed at all of the activities and events that happen at this particular park. I'm glad they left knowing more about all the wonderful things that our parks and recreation centers can offer them and their families. – Tampa, FL
Citi employees brought their children along to help and the kids did a great job assisting, especially with planting flowers. One child exclaimed, "I've never planted anything before! This is so fun. I'm excited to plant a garden at my house!" Citi employees Robb Titchell and Cynthia Marshall helped coordinate the event and passed along how happy the team was to give back to the community and make a lasting impact. They are looking forward to future partnerships and volunteer service events. – Columbus, OH
Kellie May
is director of health and wellness at NRPA.