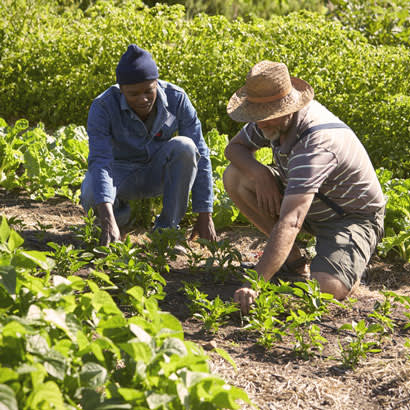 Who better to help develop programs and practices for your park and recreation agency than the community members who live, work and play among you? The importance of centering your community members and shifting power structures and norms to them to inform, design and deliver effective programs can't be understated.
Whether it be partnerships to help inform strategies and offerings, assessments to delve into the wants and needs of community members, or establishing new practices and policies to ensure the voices of those who have not always had a seat at the table, community engagement and decision-making authority is key to program sustainability — and more importantly, to advancing equity and community health and wellbeing.
Recently, 15 park and recreation agencies funded through the Parks as Community Nutrition Hubs grant program, supported by the Walmart Foundation, implemented these lessons first-hand. The agencies were asked to center equity and community members in the design of the community nutrition hubs — trusted gathering places that connect all members of the community with access to healthy foods, nutrition supports, and opportunities to support community health. The conversations, stories and lived experiences shared by their neighbors helped to not only inform their hub models (which are currently being implemented and evaluated), but the greater areas of need and priorities within each community. As NRPA provides training and support to these agencies and evaluates both the process and outcomes of their nutrition hubs, we wanted to share out some early findings and successes.
Listen
A key part of lifting up the voices and experiences of others requires listening. In Kerman, California, park and recreation professionals engaged community members through the monthly farmers markets by hosting community meetings. Through ongoing community meetings, community members expressed the desire for additional vendors at the market, which the park and recreation department was able to deliver. Community voices were also engaged to determine the needs of a new multi-generational recreation center, including recreation elements and design features. A reoccurring theme of access to community garden spaces and indoor and outdoor walking courses was echoed by community members — something that may have gone unnoticed if not for the opportunity to share. The input from the community was the first step in a much longer process to ensure the new recreation center and future park and recreation facilities and services reflect community wants and needs.
In Ozark, Alabama, program staff ensured that the people who face the greatest barriers to food security were co-creating solutions. Staff had one-on-one sit-downs with community members who attended events and activities to get their thoughts on what would best serve their needs and to make sure there are systems in place so they can access the services in the community that offer assistance. The one-on-one meetings have not only provided short-term input specific to the nutrition hub project, but they've helped to cultivate a deeper sense of trust and build new relationships between local government institutions and the community.
Program staff in Houston, Texas, reaffirmed that their proposed project to create a food forest in a local park was on the right track when community members expressed the desire for healthier food items is a top priority and concern for local residents. Some focus group members mentioned the need to drive over 10 miles for fresh produce just to meet their family's dietary needs. Although there is one local major grocery store in the region, the options are limited, costly and not suitable for a healthier lifestyle. The nutrition hub project will help to create healthy, local options to support community members' needs.
Meet People Where They Are
Every community and community member is unique, so finding strategies to gather and share information based on individual needs can be a game changer. Vivian, Louisiana, found success in an effort to ensure that the most heavily impacted citizens are also the most heavily involved. The town worked to create opportunities that meet community members where they are accustomed to gathering for other events that serve their needs. Meetings occurred at local housing complexes, information was distributed with food distribution services, and survey information was collected at community meetings and recreational events. The input was collected from subgroups of community members who received services that would be complementary to food insecurity. For example, residents who were requesting assistance with utility payments would also likely be impacted by food insecurity, and those who rely on the public library to access internet services could be experiencing financial difficulties that could be improved upon with nutritional support. Creating these linkages leads to a streamlined effort to support food security.
Not to be overlooked is the fact that park and recreation professionals are members of the community themselves, living, working, learning and playing in the same spaces and neighborhoods as residents they are serving. Relationships held by staff with individuals, community-based organizations and other institutions can be leveraged in supporting community engagement and community-driven decision making. This reaffirms the need for park and recreation agencies to ensure their operations, career opportunities and hiring practices are equitable — it is critical to build and retain a workforce and leadership team that is reflective of the overall community being served.
Respond and Adapt
Creating space to listen and meet people is a great first step, but the data collected also needs to result in action and using lessons learned to inform long-term changes. As program staff in Asheville, North Carolina, began to strengthen their partnerships and dive deeper into conversations with community members, they discovered resources and additional data sources in the community that they were unaware of. This allowed the team to refine their focus on some objectives. They decided to conduct more in-depth secondary data analysis as many surveys and studies on food access existed, and there was no need to recreate the wheel. The team's approach to future needs assessments now combines this secondary research, one-on-one stakeholder interviews with community leaders, and a primary needs assessment survey, which is sent out directly to community members by mail.
Through data collection, program staff in Chicago, Illinois, found that needs were greater than they realized. Due to the demand in community needs, their agency is changing and modifying to build on the existing foundation to include more promotion of emergency food distribution, deeper partnerships with sister agencies, and developing systems of virtual connection with patrons. Their program area has also shifted to focus on the south and west sides of Chicago — the neighborhoods which have disproportionately been affected by COVID-19.
Follow Through
To truly support program sustainability and advance community health and wellbeing, it is critical to continue looking to community members to inform, make and drive decisions. Needs and wants change, so being willing to continually listen and respond to the changing environment shows your agency has the interest of the community at the center. Program staff in Indianapolis, Indiana, has decided to do assessments as the program moves along. After their proposed youth food pantry is up and running, they plan to work with teens and ask what is working and what is not, asking questions about food choices, hours, quantity and quality of food, and asking what they would like to see available.
In Klamath Falls, Oregon, program staff plan to track who is coming in for cooking classes, SNAP/WIC sign-ups, using community gardens and accessing additional nutrition resources. This will help the team track the progress they're making within the community, as well as create direct access within the community. They are also planning to invite community members to join the Child Hunger Coalition and host ongoing open houses to keep the conversation alive within the neighborhood.
Centering equity starts with centering people. Lifting up voices, listening to their wants, needs and experiences, and sharing decision-making power is key in ensuring program success and overall community wellbeing.
Maureen Neumann (she/her) is Program Manager at NRPA.