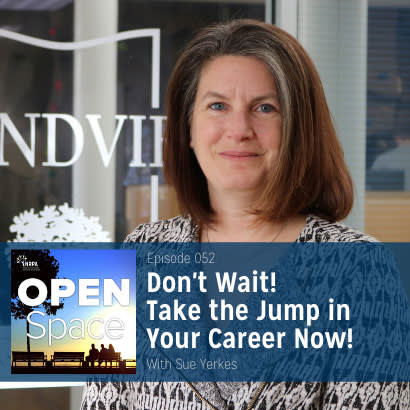 "I do everything around here."
"Do you think that's fair?"
"I gotta go master the monkeys [bars]."
These wise quotes have been in the back of Sue Yerkes's mind for much of her career. They have also been a staple in Sue's efforts to help others take the jump to advance in their careers. You may be wondering which insightful philosophers are credited with these quotes. Aristotle? Emerson? Steve Jobs?
Try again. These inspiring quotes came from Sue's nieces, nephews and own kids — who are all under the age of 6. And sometimes, it's the innocent minds of children that remind us of the most valuable life lessons.
We had the chance to sit down with Sue, who is the director of Grandview Parks & Recreation in Missouri, at the 2019 NRPA Annual Conference in Baltimore, Maryland, to find out about her journey into the field of parks and recreation and some of the "aha" moments she's had along the way.
Tune in to the episode below to learn how Sue interpreted the advice from children in her family to not only advance in her own career, but also motivate and inspire others to do the same. She also shares her philosophy on how even though it may not always seem like the "right" time to do something, sometimes we have to get out of our comfort zones and "take the jump" in our careers.
Listen to the episode for the full story.