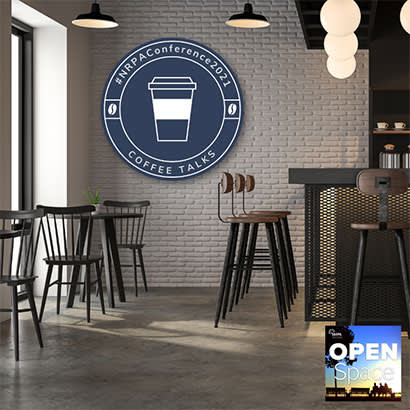 Things have been very busy here at NRPA as we gear up for the 2021 NRPA Annual Conference coming up September 21-23. So busy, in fact, that we don't have a new episode of Open Space Radio for you today, but I wanted to take the opportunity on our regularly scheduled release day to release a bonus episode just to give you a sneak peek of what I've been working on for conference.
Over the past couple of weeks, I've been recording some really incredible conversations for our Coffee Talks that will be taking place at the conference. Coffee Talks will be airing each morning and evening during the conference on the virtual platform, and I'll be talking with park and recreation professionals, program participants, community leaders, NRPA staff and more, about the important work and the incredible stories that happen in parks and recreation.
Tune in below to learn about the guests who will be joining me for Coffee Talks at this year's conference:
Day One
Morning: Autumn Saxton-Ross, NRPA's vice president of education and chief equity officer, will join me for the first Coffee Talk to discuss how her first year at NRPA has gone, what she's been up to, and provide an update on how NRPA is continuing to center equity in all we do.
Evening: Ignacio Gallegos, a participant at Fox Valley Special Recreation Association in Illinois and his grandmother, Leticia DeLaFuente, will share how the programs at Fox Valley have made Ignacio, who was born blind, feel included, helped him participate and given him purpose in life.
Day Two
Morning: Jodie Adams, a parks director emeritus and past president of the NRPA Board of Directors, will talk about an NRPA oral history project that we'll be integrating into the podcast in the months ahead. We'll be discussing the history of NRPA as an organization, lessons learned and some amazing stories from previous leaders.
Evening: Luis Romahn, the president, CEO and founder of Parques de México and the National Association of Parks and Recreation Mexico, will discuss all the great work he and his organization are doing to build a park and recreation movement in Mexico and areas of Latin America, and how professionals in the U.S. can support.
Day Three
Morning: Dr. Kim and Claude Walker of the Tennessee-based Abundant Life Adventure Club (who have also previously been guests of Open Space Radio) will be updating me on all the incredible things they've been up to and how they're empowering Black people to spend time in nature to inspire wellness, abundant living and connection.
Evening: Brodrick Clarke, vice president of programs for National Summer Learning Association, Daniel Hatcher, director of community partnerships for Alliance for a Healthier Generation, and Allison Colman, NRPA's director of health, join me for a conversation about the importance of out-of-school time programs and how they can continue to support equitable access to learning, community healing, and the health and well-being of youth.
I sincerely hope you will join us for the 2021 NRPA Annual Conference, whether in Nashville or virtually. And, I hope you'll join me and the guests above for some great conversation each morning and evening on the virtual platform. So, be sure to head over to the conference webpage to register! But, if you aren't able to join us, don't worry — some of these Coffee Talks also will be released throughout the year as episodes of the podcast!
As always, thank you for everything you do and thanks for your continued support of the show. I'll be back in two weeks, and we'll be back to our regularly scheduled stories that showcase the essential nature of parks and recreation.
Listen to the episode for the full story.