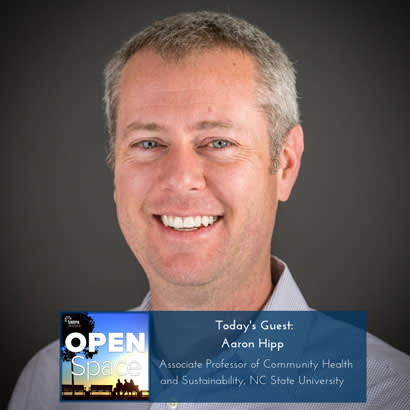 On today's episode of Open Space Radio, we're joined by Aaron Hipp, an Associate Professor of Community Health and Sustainability at NC State University's Department of Parks, Recreation and Tourism Management.
Aaron is currently conducting research on topics such as how, where, and why our public built environments impact health behaviors such as physical activity and recreation, and the effect of the environment where we spend most of our time, such as work, school and sleep, on leisure time physical activity.
On the show, we discuss how, statistically, children and people of color have the lowest rates of physical activity as compared to other demographics, and this lack of physical activity has large implications on the health outcomes of communities of color. We examine why these disparities in physical activity exist between demographics, and how parks and improved accessibility to them can be used to close this gap.
We also take a look at Aaron's work on a study through the Physical Activity Research Center (PARC), which is focused on understanding how parks are used by children in communities of color. The study focused on evaluating park use through observation, intercept surveys and community surveys.
Aaron also gives some advice on how a time and resource limited agency can perform this type of research through:
Not being afraid to move forward
A systematic/purposeful approach
Partnerships/collaborations
Listen to the episode for the full story.