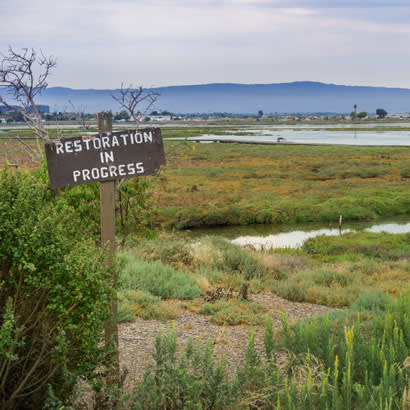 If you checked out NRPA's "Top Trends in Parks and Recreation for 2018" article in February's Parks and Recreation magazine, you know innovations within local parks are not hard to find. However, you don't need an elaborate system of underground parks or swarms of drones mapping your city's greenspace to win this year's Innovation in Conservation Award. Park and recreation agencies across the country are continuously pushing the boundaries when it comes to protecting and managing natural resources and connecting people to the natural world — and creating positive change both for the environment and within their communities while they're at it. Whether through unique cross sector collaborations, energy reduction strategies that lesson the carbon footprint of park operations, stewardship programs that reach new audiences, or the integration of technology in natural resource management, innovations are abound among our membership.
The 2018 NRPA Innovation in Conservation Award is your chance to share your conservation successes and best practices with your peers and have your efforts celebrated at the 2018 NRPA Annual Conference in Indianapolis.
No matter if your agency serves a town of 500 or 500,000 — we want to hear from you. How are parks creating positive environmental change in your community? What is your proudest conservation accomplishment? Below are a few examples of award-worthy innovations that we know are out there. Make sure to submit yours today!
Power of the People — We all know park and recreation resources and capacity of staff are continuously stretched thin. Harnessing the efforts of volunteers to accomplish your conservation goals is a creative way to do more with less, while also building the environmental ethic and knowledge of your residents.
Award worthy ideas: Citizen science programs that capture critical decision-making data; stewardship programs that put volunteers in charge of the long-term care of green space; training programs that build the capacity of park advocacy efforts.
Embracing Technology — Across the country, conservationists are employing the latest technological advances to make a difference for people, wildlife, forests and clean water. Local parks are no exception, and increasingly, park and recreation agencies are turning to technology to help them manage resources and connect people with the natural world.
Award worthy ideas: smart irrigation systems that conserve water resources and cut costs; mobile gaming apps that deliver environmental education and encourage local exploration.
Unique Partnerships — Partnerships allow park and recreation agencies to enhance services and programs, stretch funds and expand capacity. Whether public-private, public-public or some iteration of the two, parks are combining forces with others to increase the impact of park conservation efforts.
Award worthy ideas: Improving water quality and reducing flooding in partnership with your water utility; increasing access to quality green space working in collaboration with your local school district.
If your agency has addressed a critical environmental need in your community, and helped educate residents along the way, we want you to apply for the Innovation in Conservation Award! This is your chance to show the nation and all your peers the great work that we know you do every day. The deadline for applications is March 23.
Lori Robertson is NRPA's Director of Conservation.