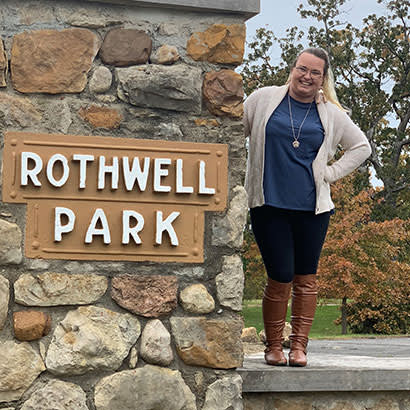 I didn't choose the aquatics industry. Aquatics chose me. Aquatics was the very beginning of my park and recreation career, but at the beginning, it wasn't even my career path.

I was working at a Steak 'n Shake while going to school for elementary education — that was my great life plan. I was finishing up my second year of college when I made the decision that would forever change my life.

"I do not want to go back to working at Steak 'n Shake this summer," I said to myself.

So, I started applying anywhere and everywhere except fast food — retail, customer service, office work, etc. I was going to school 10 hours away from "home," so I was submitting online applications and mailing applications in. The first — and only — job to call me that was willing to set up a remote interview was a lifeguard job. Anything to not go back to the greasy fast-food environment was worth it to me.

I fell in love with that job. About two years into it, I sat down with my boss to talk to him about my future plans.

"I don't want to be a teacher anymore. I have been thinking and the Highway Patrol Academy opens in a few months. I think I want to pursue it," I said.

That was when my boss said the words that would further change my life:

"Amber, you need to consider aquatics as an option, as well. You have a rare passion and skill for it, and I think you would really be successful."

The rest is history.
Summer 2021 Open Plunge at Brigham City Community Swimming Pool in Brigham City, Utah.
In that position, I went on to a beginner managing role as a head guard and was trusted to assist in coordinating swimming lessons. I completed a Walt Disney World internship as a lifeguard. I went on to become a seasonal pool manager before diving into my first full-time aquatics management job.
It was in my second full-time position that I learned becoming a Certified Park and Recreation Professional (CPRP) was even a thing. Coming from an aquatics background, I had already obtained or began to obtain the necessary and beneficial aquatics certificates. When I heard about CPRP, though, that one was different. That one became more than a goal for me. It became THE goal for me.
I am one to face a challenge head-on and ferociously. As I continued in that position, I began to hear the doubts that preceded my hiring. I had a coworker who was adamant that they should consider other applicants because I wasn't a CPRP and I "didn't even have a recreation degree." That stung. Even with my letters of recommendation and experience, that person didn't feel like I was enough. I am so thankful that the department took a chance on me, though. It was a life-changing role. I was able to use that adversity as fuel to pursue my CPRP goal.
I've since gotten married, moved across the country, and moved on into other positions. I briefly worked in the private aquatic sector, and my CPRP preparation was put on hold. Naturally, my public-serving heart eventually moved into the position I am in now. I never left aquatics, but being back in municipal recreation was just what my soul needed. This position provided me the opportunity to begin pursuing my CPRP again.
I saw becoming a CPRP as the next step for me. My long-term goal is to eventually move out of aquatics into a sort of recreation director position, so the study materials and test content helped me begin to scratch the surface of some of the things I will need to learn in the future.
These days, already being a CPRP, I see being a CPRP as a duty. I have a duty to the members of the community I serve to stay up-to-date on best practices, efficient practices, and being knowledgeable of the services we offer. I also have a duty to my staff to understand organization practices, policies and operations — many of which are outlined in the CPRP material. CPRP is like NRPA's stamp of approval on my knowledge.
After passing my exam and becoming a CPRP, I saw an almost immediate shift in my own confidence and both the volume and quality of my performance. I have more pride in my work than ever before (and before, I would have told you that the pride I take in my work was unmatched). I didn't even expect this change within myself, but it has been the best byproduct of pursuing a CPRP certificate.
Becoming a CPRP is an investment in yourself, in your facility, your department, your city, your future and the future of parks and recreation. You've heard it a hundred (or more) times, but truly, if you are considering it, dive in. It's worth it.
Interested in becoming a CPRP? Now is the perfect time! Complete an application to become a CPRP between March 1, 2022, and April 30, 2022, to receive a free Basic CPRP Learning Pack ($250 value). Learn more and apply today.
Amber Moore, CPRP, (she/her/hers) is the Aquatics Supervisor for Brigham City Corporation (Utah).