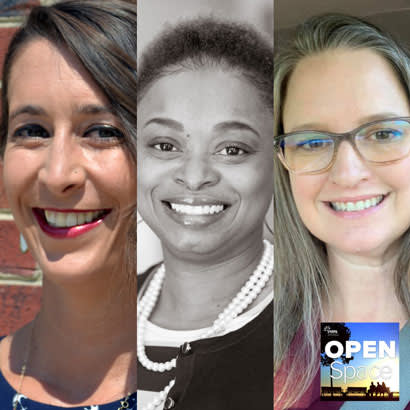 Women's History Month starts next month, and we thought it would be a good time to tackle a topic that has been on our episode wish list for a while now — women in parks and recreation. Parks and recreation, like many professions, was once a male-dominated industry. Now, however, those figures seem like they may be shifting. When thinking about who to bring on the podcast to talk about women in the field of parks and recreation, there seemed to be an obvious choice.
Today we are welcoming three park and recreation professionals who wanted to create a community for women in the field to come together and share their ideas, struggles and triumphs — something that has become even more important throughout the COVID-19 pandemic. Joining us are Lakita Watson, NRPA board member and executive director of the Richland County Recreation Commission (South Carolina); Katy Keller, Recreation Program Coordinator for Indian Trail Parks and Recreation (North Carolina); and Melanie Scoggins, Business Development and Retention Manager at Town of Leesburg (Virginia).
Tune in to the full episode below as we discuss their experiences, as well as the inspiration behind the Women in Parks and Recreation Facebook group they created, which now has more than 8,000 members — made up entirely of women in parks and recreation — as well as:
Why they feel it's important for women to have their own space to collaborate on ideas related to our field.
Some of the ways they are sharing the "mental load" of invisible work that women take on in their personal and professional lives.
What their experiences have been working through a pandemic and what challenges have been unique to women.
What advice they would give young women in the field of parks and recreation.
Some of their favorite stories and ideas that have come from the Women in Parks and Recreation Facebook group, and more!
Listen to the episode for the full story.
This episode of Open Space Radio is sponsored by Active Network, which provides park and recreation departments with the technology, support and partnership they need to streamline internal processes and optimize citizen engagement.