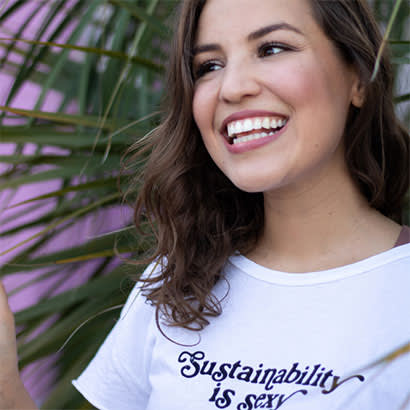 It has been some time since our last episode, and I'm so thrilled to be back today with someone who is sure to inspire you to live a m­­­ore sustainable, waste-free life, while encouraging your community to do the same – and it's perfect timing as this episode is being released on America Recycles Day, which recognizes the importance and impact of recycling.
Manuela Barón is a Colombian-American sustainability activist, artist and founder of The Girl Gone Green, which is an inclusive community that fosters social and environmental change and encourages people to live more consciously.
Manuela is also an ambassador for our partners at Merrell, and she is doing really impactful work to educate and bring awareness to environmental issues and more sustainable lifestyles.
Tune in to the full episode below to learn more about Manuela, ways you can live more sustainably, and the importance of building community. You'll also learn:
What inspired Manuela to start "The Girl Gone Green" and how she's using her platform to inspire others to live sustainably
How to navigate challenges that arise when doing environmental advocacy work
Where to start with your own environmental programming at your agency
What to consider when building a community/network of support for environmental work
How we can all use our own circles of influence to start the conversation and move this important work forward, and much more!
Related Links:
Listen to the episode for the full story.

This episode of Open Space Radio is sponsored by Merrell ReTread — because every great journey deserves a sequel. Our partners at Merrell launched a new recycle and resale platform to give shoes a second shot at adventure and prevent them from ending up in landfills. Visit

ReTread.Merrell.com

to give back your well-loved shoes and get $20 off your next order.