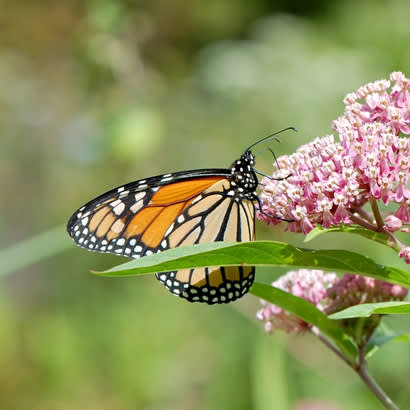 Through NRPA's work with the Parks for Pollinators BioBlitz program, hundreds of park and recreation professionals have been engaged to educate their communities and advance pollinator protection strategies across the country. While each professional comes with their own experience, a vast majority were new to community science efforts, like the BioBlitz, and found it a great resource to help engage their community in a meaningful way.
Park and recreation professionals return year after year to host community events with us that center around the BioBlitz. This initiative helps professionals who are eager to advance native habitat, environmental education and other programs that support pollinators and biodiversity. These efforts include pivoting to native plants, incorporating educational elements and programming, adopting new maintenance practices, reconsidering how they update and plan their green spaces and more. This work helps support biodiversity and increases climate resiliency and sustainability; it can also help agencies achieve their larger goals associated with sustainability plans, net zero and national 30x30 goals.
Many parks and their professionals are layering additional aspects of this work, while others in their department, as well as additional municipal departments and community members, work in parallel to advance similar efforts. All these groups bring their own expertise and resources that can help advance core goals, providing a great opportunity for partnership and advancing mutual objectives.
NRPA created a resource, Parks and Pollinators: Taking Action and Advancing Sustainability, to help park and recreation professionals leverage their current programs and projects with native habitat and engage their community. This resource guides professionals through an assessment of their current efforts and helps create plans that broadly advance their strategies. It also provides a self-assessment and a process to examine work in your department, in other departments or within your community that aligns to create a team to plan and advance these strategies more effectively and broadly with expertise, resources and efforts already in place. It also helps to examine your internal efforts as well as how you are engaging your community and building awareness for this work. Sample policies, practices, budgeting information, communications tips and other resources are also shared within this resource. These tools can create momentum for your current sustainability and biodiversity efforts and help create a core team to advance this work in the future.
Learning from others is often the best way to gain knowledge; case studies that describe how other park agencies and/or teams are planning more broadly for native habitats are included. One case study takes a closer look at Harrisonburg, Virginia, where officials are developing a pollinator corridor throughout their downtown on city property. They also have engaged local homeowners to advance their plans. In Columbus, Ohio, officials created a planning team to advance cross-departmental cooperation with their "Parkland Conservation Team." This multidepartment model can also be observed in Houston, Texas, with its Green Infrastructure Coordination Committee, which engages several key city departments. Finally, the program in Boulder, Colorado, provides an example of how community engagement campaigns can advance this work and build into larger efforts to advance climate resiliency.
NRPA worked with a panel of experts from the park and recreation field and pollinator organizations like Xerces, Monarch Joint Venture and Extension Office to ensure the resources would be helpful to the field. Parks and Pollinators: Taking Action and Advancing Sustainability will especially help any professional regardless of where they are in this work — whether a first-time BioBlitz participant or a more seasoned native habitat and awareness practitioner.
NRPA hopes these resources will help you explore what you are already doing in this space, identify opportunities to grow, and help build cross-functional teams to help create impactful change in your community to advance pollinator support and sustainability efforts.
Michele White, CAE, IOM, (she/her) is an NRPA senior program manager.
Note: The Parks for Pollinators campaign, hosted through a partnership between the National Recreation and Park Association (NRPA) and The Scotts Miracle-Gro Foundation, aims to raise public awareness of the pollinator crisis and encourage local action through public parks and recreation. NRPA and The Scotts Miracle-Gro Foundation believe parks play a key role in protecting and preserving pollinators and their habitats. Together, as part of Scotts Miracle-Gro's GroMoreGood initiative, they are working to educate more children, families and communities about the importance of pollinators and what people can do to help