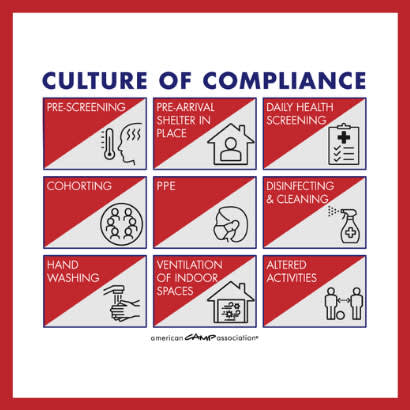 Summer program planning is underway! According to our latest Parks Snapshot survey, park and recreation professionals across the country are creating operational and program plans for summer camps, youth sports, outdoor pools, community events, farmers markets and more. Coronavirus (COVID-19) is still a very active threat, but compared to summer 2020, we are in a very different place with more readily available testing and a vaccine distribution plan that is pacing ahead of the Biden administration's goals. We also have a much greater understanding of how the virus spreads and the effectiveness of Non-Pharmaceutical Interventions (NPIs) and successful prevention strategies in childcare and camp settings.
So how will these factors influence summer camps and what changes can we expect for 2021?
Recent conversations with the Centers for Disease Control and Prevention (CDC), the American Camp Association (ACA) and other national out-of-school time organizations, as well as newly released studies highlighting the effectiveness of multi-layered prevention measures in camp and childcare settings, have confirmed that while summer camp programs will continue to have significant prevention and mitigation strategies in place this year, they can safely operate (yay!). While we are awaiting updated COVID-19 summer camp guidance from the CDC (expected in early April), park and recreation professionals should look to CDC's guidance on schools and childcare facilities as they create plans for their programs this year, focusing on five key prevention strategies:
Proper use of masks and maximizing physical distancing are most paramount to continuing to prevent COVID-19 transmission. Additional mitigation measures that are recommended this year include:
Encouraging (not requiring) staff to get vaccinated (CDC expanded the definition of "essential workers" to include childcare workers, eligible in Phase 1b).
Using "cohorting" — a strategy that keeps campers and staff together in small groups and limits contacts between cohorts.
Implementing testing strategies if equitable access to testing is available.
Staggering arrival times or adjusting schedules to decrease group sizes.
Modifying layouts of facilities and modifying activities to ensure physical distancing.
Conducting screenings of staff and youth.
In addition to CDC's forthcoming 2021 camp guidance, the ACA maintains a superb resource center, helping camp professionals to better understand and apply CDC guidance to their everyday work. ACA recently released an updated field guide with valuable information, tools and templates on everything from facilities management, food service, transportation considerations, PPE, activities and sample communications.
Given the many challenges that communities have been facing this year, other differences in summer camp guidance that we can expect in 2021 include:
A greater focus on social-emotional health and supporting youth who have experienced trauma — using summer programs as an opportunity to help youth reconnect and redevelop lost social skills due to a year of virtual learning.
Centering health equity and building partnerships with the community to ensure that youth most impacted by the COVID-19 pandemic have access to needed summer programs/services.
A greater focus on academic support and enrichment to address learning loss from this past year.
An emphasis on a gradual and safe return to physical activity to reduce the risk of injury.
Expanded guidance around food service at campsites building off of current guidance outlining prevention strategies for meals in the classroom, meals in the cafeteria, drive-through, walk-up, or home/mobile route delivery meal programs.
For park and recreation professionals preparing for summer, the bottom line is that with preventative measures in place, summer camps can function in a way that is safe, fun and provides needed supports and social opportunities for youth this year.
For more information about NRPA's response to COVID-19, as well as available resources for park and recreation professionals, please see our Coronavirus Disease 2019 (COVID-19) webpage.
Allison Colman is NRPA's director of health.