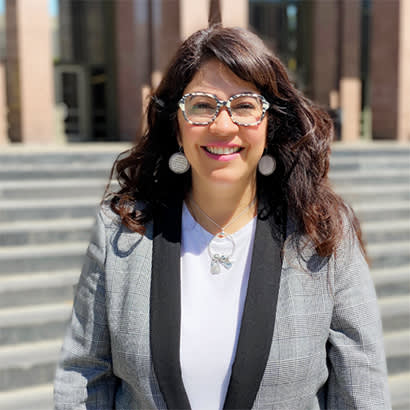 Pictured: Norma Edith García-Gonzalez, director of Los Angeles County Parks and Recreation
Los Angeles County is doing some big things and the department of parks and recreation is continuing to make an impact when it comes to equity, environmental resilience and the health and well-being of its community members.
I'm thrilled to be joined today by Norma Edith García-Gonzalez, who has worked for Los Angeles County Parks and Recreation for more than a decade and was appointed as director of the department in 2020 — becoming the first woman and first person of color to lead the department. What's more, Norma now leads the same department that made such an impact on her in her youth.
Norma has been a true community leader in advancing the department's mission, which I'm excited to talk about today. We're also going to discuss LA's 2022 Parks Needs Assessment Plus (PNA+) Final Report, which was recently adopted as the county's 30x30 plan — which is the goal of conserving 30 percent of lands and coastal waters by 2030 to address climate change.
Tune in to our full conversation below to learn more about Norma and the good work that's happening in Los Angeles County. You'll also learn:
How Norma's career in parks and recreation began
The historical barriers when it comes to serving the most vulnerable populations in Los Angeles County
How Norma and her staff are intentionally centering their work in equity and anti-racism
How the 2022 PNA+ Final Report was adopted as L.A. County's 30x30 plan to address climate change
Some of the opportunities and challenges when it comes to achieving the 30x30 goal of conserving 30% of lands and coastal waters by 2030
Why this work means so much to Norma, and so much more!
Related Links:
Listen to the episode for the full story.