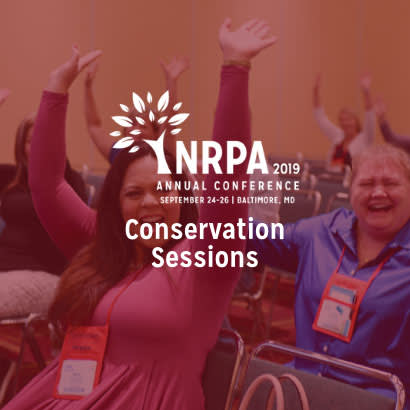 As park and recreation professionals, you play a vital role in planning and creating resilient communities. Whether through green infrastructure, conservation of public lands, providing wildlife habitat or educating the next environmental stewards, parks are a leader in creating healthy natural spaces that improve their communities. At the 2019 NRPA Annual Conference, we have a number of stellar conservation-focused education sessions that highlight the impactful conservation work happening in agencies across the country and showcase best practices that you can use in your agency. To help you plan, here are some of our "must see" sessions that are sure to inspire ideas you can take back home with you!
Tuesday, September 24
1 p.m.-2:15 p.m. | Wildlife in Parks and Communities: Institutionalizing wildlife conservation in park systems through municipal-wide planning efforts | Room: 310
While many agencies already have nature or wildlife programs or manage natural areas, this session will help you integrate best practices for managing wildlife into your master plans or municipal-wide sustainability, green infrastructure or climate resilience plans.
2:30 pm.-2:50 p.m. | Tools for Measuring Green Infrastructure Results in Parks | Room: 339
NRPA recently launched the Green Infrastructure Evaluation Framework to help agencies measure the community results of GI projects in their parks. This session will demo the online framework and share other resources to measure environmental, health, social and economic results in a community.
3 p.m.-4:15 p.m. | Disaster Resilience = Recreational Opportunities | Room: 310
Communities can work with nature to become more resilient and better weather the storms, and this panel will share project examples that did just that! Hear about the transformation of an 850-acre stretch of land along a frequently flooded portion of the Forked Deer River in Madison County, Tennessee.
3 p.m.-5:15 p.m. | The New Green Normal: Leveraging Community, Ecology and Green Infrastructure to Support Urban Resilience in Baltimore and Beyond | Room: 340
Many cities struggle to maintain older parks and spaces. But by building new networks of open space and restoring ecological function on previously marginalized landscapes, they can enhance urban resilience. Come to this session to see how the City of Baltimore's Baltimore Green Network plan is doing just that.
Wednesday, September 25
9:30 a.m.-9:50 a.m. | Come Together: How Cities Can Meet Stormwater Requirements and Improve Their Parks | Room338
Are you operating with an extremely lean budget? Could another city department meet its needs and help you at the same time? City water and sewer departments across the country are required by EPA Consent Decree to clean up the stormwater and partnering with parks to achieve can help everyone. This session will explain how Middletown, Ohio, utilized stormwater funding to incorporate a bioretention area and facility improvements.
9:30 a.m.-9:50 a.m. | Lake Management Strategies to Reduce Harmful Algal Blooms and Protect Public Water Recreation Programs | Room: 339
We have all read about harmful algal blooms lately. Come here how The East Bay Regional Park District developed a management and notification program. This session will provide guidance on the development of algal monitoring and toxin testing programs, discuss strategies for public outreach and notification during hazardous conditions, and review options for lake management to reduce the occurrence of harmful algal blooms.
10:10 a.m.-10:30 a.m. | Parks as Green Infrastructure or Green Infrastructure in Parks? Definitions and initiatives in US city planning documents and their practical implications | Room: 341
Many promote green infrastructure as equitably improving connections between health and urban ecosystems, while others focus on stormwater management to comply with federal regulations. Are we managing urban green spaces for the multiple benefits they provide to society and ecosystems, or complying with formal regulatory processes? This session examines the consequences of this split for how city GI definitions, initiatives and practices, coalesce around concrete mechanisms for public engagement and providing high quality park spaces.
10:10 a.m.-10:30 a.m. | Managing Park Forests and Vegetation to Reduce the Risk of Wildfires | Room: 339
Forest fires are burning faster, hotter and exhibiting wildfire behaviors never seen before. Managing forests, especially large-scale fuel loads, presents a unique set of challenges for urban park managers. Implementing fuel reduction projects require careful planning. This session will discuss the challenges involved in planning and development of fuel reduction programs, funding strategies, and practices to protect natural resources during implementation.
3 p.m.-4:15 p.m. | Pollinator Wanted: Attracting Butterflies, Bees, and Hummingbirds to Your Parks | Room: 342
Are you interested in creating a community wide pollinator conservation plan or learning how to best manage your parks to support them? Come hear how The Dallas Park and Recreation Department has initiated a multi-scaled pollinator management plan that provides flexibility to adapt to any space. Come learn how to make your parks more pollinator friendly.
3 p.m.-4:15 p.m. | Urban Goose Management | Room 328
Do you have a Canada geese problem? The session is for you and includes relevant laws, basic biology, and methods to control goose damage.
4:30 p.m.-4:50 pm. | Trees as Critical Infrastructure: Managing for Public Safety and Quality of Life | Room 349-350
Trees play a critical role in our public parks and provide many environmental benefits. NYC Parks has shifted their standard of tree care from one prioritized by public service requests to one that integrates modern tree risk assessment into an urban forest management program. Hear their successes and challenges in instituting an urban forest management protocol that increases safety while enhancing the health and quality of their urban forest.
Thursday, September 26
8 a.m.-9:15 a.m. | The Illusion of Wildlife Magic: Meeting Wildlife Management Demands Among Unrealistic Expectations | Room: 342
Protecting and managing natural resources while meeting the expectations of your park users may be difficult. Hear how Montgomery Parks work to address wildlife management needs and responses to the concerns of park visitors.
9:30 a.m.-10:45 a.m. | How to Use Public Parks to Improve Climate, Health and Equity Outcomes | Room: 315
Cities are already facing multi-faceted challenges due to rising temperatures, from urban heat islands to public health. Urban parks leaders from across the country will discuss how they are using parks, trails and greenspaces to help cities address the challenges posed by a warming climate during this session. You will learn how parks and trails can be part of a city's strategy to be healthier, more equitable and more resilient.
9:30 a.m.- 11:45 a.m. | Building Climate and Community Resilience Through Parks and Open Space | Room: 344
Parks and open space provide important benefits and opportunities to address impacts from climate change while offering co-benefits of health, wellness and community recreation. This session will explore this and discuss how parks may be able to leverage state and federal hazard funding to improve parks while battling climate change.
2:30 p.m.-3:45 p.m. | Living STEAM Laboratories: Mitigating/Adapting to Climate Change | Room: 314
Come join this interactive session on Living STEAM Labs. These programs showcase the innovative ways parks and their partners can adapt to the world's environmental issues and raise conservation awareness. The successful implementation of these programs will position parks as incubators for the environmental revolution needed to mitigate climate change.
Off-Site Institutes
We all know how tiring it can be being stuck inside all day, so check out these conservation-themed interactive sessions or mobile education opportunities! As a reminder, these sessions are not included with conference registration. To sign-up, please select the sessions during the conference registration process or go back and add it to your schedule by logging into the registration site.
Tuesday, September 24 | 1:15 p.m.-5:30 p.m. | Reactivating Urban Waterfronts Through Partnerships and Recreation: Kayak Tour
You will explore four to six miles of the Inner Harbor and the guides will highlight several Waterfront Partnerships projects, including floating wetlands, oyster nurseries, and the world-famous Mr. Trashwheel, that all work together to clean our urban waterways.
Thursday, September 26 | 9 a.m.-3:30 p.m. | Waste to Wealth: Recycling & Marketing Wood From Our Parks & Neighborhoods
Learn how Baltimore City is recycling all usable wood from their agency and across the city. They not only recycle all wood generated from public pruning and removal projects but is now also marketing wood nationwide from the deconstruction of its abandoned row houses. You will see the sorting yard in action, visit a housing deconstruction site, and – finally – at a workshop/warehouse where lumber is being processed and shipped around the country.
We can't wait to see you in Charm City at these great sessions (and more)!
Michele White, CAE, IOM, is NRPA's Conservation Program Manager.