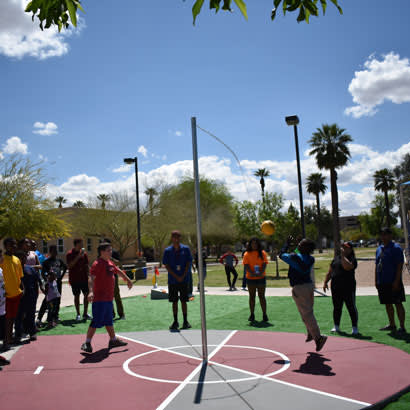 This year, park and recreation agencies across the country had the opportunity to take advantage of the Connecting Communities Through Outdoor Play grant, thanks to support from the Target Corporation. The idea of this grant was to provide increased access to play and physical activity for kids and families through built-environment enhancements.
Seeing communities come together to enjoy parks is a valuable thing, and we wanted to share the story more broadly than just writing about it. So, NRPA visited Phoenix, Arizona, to celebrate the grand opening of Phoenix Parks and Recreation Department's University Park project. The park space enhancements centered around intergenerational play opportunities.
University Park is located in a densely-populated area of downtown Phoenix with many homes nearby, but very few of these homes have a backyard. This park is perfectly positioned to serve as a community backyard, but a large homeless population and rising drug use resulted in the park no longer being viewed as a safe space. The Connecting Communities Through Outdoor Play grant provided the opportunity to enhance the space and reinvigorate the neighborhood. Community members were excited and eager to check out the new offerings and to reclaim the park.
Phoenix Parks and Recreation Department installed four new features in University Park: a tetherball pole, a four square court, cornhole and a bocce ball court. By installing these traditional lawn games, University Park solidified its space as the community backyard. These games were also the perfect way to engage all generations. During the opening event, community members of all ages were showing each other how to play the games — from the rules of bocce, to the finesse of tetherball, to the ruthlessness of four square. Local police officers even stopped by to team up with the youngest community members for a mini cornhole tournament.
The University Park project is a great testament to the power of community. It shows that it doesn't take many resources to support play for all ages. Check out our video below telling the story of Phoenix and see for yourself.
Maureen Acquino is NRPA's Program Specialist.