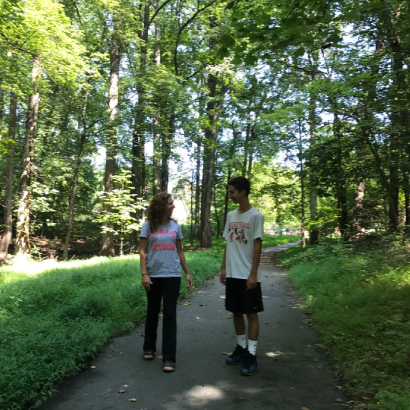 Clinical Social Worker Jennifer Udler, LCSW-C shares how she discovered the benefits of combining walking, therapy and nature together to help those with mental illness.
Imagine a quiet walking trail lined with trees full of vibrant autumn leaves. A trickling creek winds next to the trail and a deer stands by the edge of the water. On the trail are two people, walking and talking. One is a clinical social worker, and the other is a teenager who is talking about his struggles with anxiety and depression. The teen speaks openly and fluidly about pressure at school, family issues and relationships. The therapist uses her expertise to support her client and work on coping skills. This is the new model for therapy.
While running with my local road running club, week after week, I noticed the runner's interactions. I was involved in conversations that included everything from exchanging ideas about parenting, self-care, relationship issues and problems in the workplace (just to name a few). These interactions inspired me to move my therapy practice from the usual indoor office space, to the great outdoors. I started meeting clients for walks, and using the natural environment to help clients move forward in their therapy goals.
The ideas that came from my experience with training for the Marine Corps Marathon led me to create Positive Strides, LLC in 2013. Nature, walking and therapy are a winning combination for leading patients on a journey to healing.
The National Alliance on Mental Illness reports that 1 in 5 adults in the U.S. experiences mental illness in a given year.
Therapy: It is a struggle every day for people with mental illness to function and move through life easily. People who identify with having a mental illness are more likely to succeed in life with the support of a therapist.


Walking improves mood, leads to a better body image, and assists with sleep and memory.


Nature: "There is mounting evidence that contact with nature has significant positive impacts on mental health," said Mardie Townsend PhD, an honorary professor at Deakin University in Australia. She believes that the growing disconnect with our natural environment is exacerbating the escalating rates of mental illness and that mental health professionals should be prescribing time in nature as often as possible, as well as advocating on the policy level to help ensure access to green spaces for everyone.
How are you supporting parks in regard to improving the lives of people with mental illness? Do you have any current programing that encourages people to walk in your parks to improve their mental well-being? How are social workers and therapists in your community working with and in your park system?
Leave your feedback in the comments! You can also reach out to Jennifer at Positive Strides on Facebook or LinkedIn to learn more about their process and how they can help.