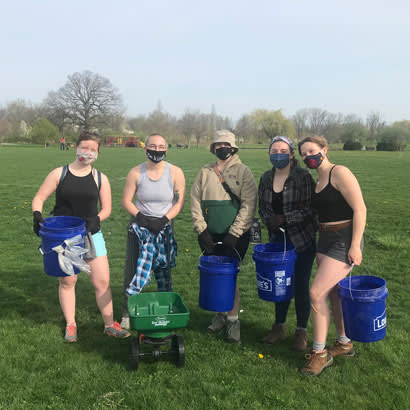 Columbus Recreation and Parks Department loves Earth Day! In fact, we like to call April "Earth Month" because we pack it full of conservation activities all month long: tree plantings, litter cleanups, landscape projects, playground beautifications and more! We also love that National Volunteer Week falls the third week of April — it's a double whammy of volunteer opportunities and appreciation.
In 2020, we had grand plans for Earth Day that involved hundreds of trees being planted throughout Columbus parks by our cherished volunteers. Then the pandemic hit, canceling everything. We placed a hold on our tree order and pushed the plantings to October. For April, we launched a Virtual Earth Day campaign that encouraged Columbus residents to use the iNaturalist app to record observations found in Columbus parks. We also partnered with local organizations that donated prizes to users who posted iNaturalist screenshots on our department's social media channels. In October 2020, we were still able to plant all of our trees under COVID-19 safe guidelines, involving small groups of physically distanced and masked volunteers.
When we began planning what Earth Day would look like in 2021, we decided to take a new approach. What if we planted pollinator habitats instead of trees? Pollinators pack a punch of environmental benefits and habitats can be installed with small groups of volunteers, making events more COVID-safe. They require little maintenance once they are in the ground, so it wouldn't require extra staff resources for land management. It's also an educational opportunity for volunteers to learn about what is growing in our parks and encourage residents to place native plants on their own properties.
Pollinator Signage in the Whetstone Prairie in Columbus, Ohio. Photo courtesy of Columbus Recreation and Parks Department.
By the end of Earth Month 2021, we will have six new pollinator habitats installed by volunteers, which helps the Columbus Recreation and Parks Department work toward our goal of continuing to increase this habitat throughout the city. We also will be adding educational signage to these locations to inform Columbus, Ohio, residents of the new additions. Our volunteers are excited about this work! Planting a prairie is not necessarily labor-intensive, but it is fun and can be accomplished in few hours. Volunteers have asked to assist with maintenance and can't wait to come back in a few months to see what pops up.
Volunteers at Whetstone Prairie. Photos courtesy of Columbus Recreation and Parks Department.
Will we return to normal protocol and plant trees in honor of Earth Month in 2022? Probably! Will we also throw in a few pollinator installations as well? Absolutely! As we navigate what future volunteer and conservation events look like, we are considering what impact small groups of physically distanced volunteers can accomplish, and planting pollinator habitats rises to the top of the list. We are thankful this COVID-19 pivot has helped us find new ways to celebrate Earth Month and we look forward to future years of planting and growing!
Betty Blockinger is the volunteer services manager for Columbus Recreation and Parks Department.