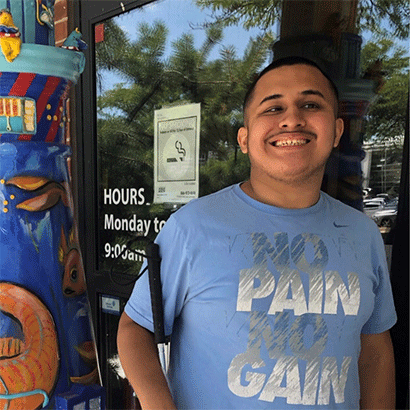 In the spirit of registration opening yesterday for the 2022 NRPA Annual Conference, I wanted to replay one of our Coffee Talks from last year's conference, when I had the opportunity to talk with Ignacio Gallegos and his grandmother, Leticia DeLaFuente.
Ignacio has been a participant in the programs through Fox Valley Special Recreation Association in Illinois for the last 11 years, which he says has helped him find purpose in life. Ignacio, who was born blind, shares how the programs at Fox Valley have made him feel included, helped him participate in activities with his peers, and learn something that we have all become widely familiar with over the past few years – how to use Zoom and build connections virtually.
I hope you enjoy this conversation – and be sure to stick around until the end when Ignacio performs his favorite karaoke song, which is one of his most loved programs to participate in. And, if you enjoy this Coffee Talk, I hope you'll join us at the 2022 NRPA Annual Conference, taking place in Phoenix, Arizona, this September 20-22. Register here today!
Tune in below to learn:
What kinds of programs have improved Ignacio's quality of life the most
What skills Ignacio has developed through the programs at Fox Valley Special Recreation
How Leticia feels witnessing her grandson thrive and immerse himself in these programs
The importance of connection and a sense of belonging
How the staff at Fox Valley Special Recreation have made their way into Leticia and Ignacio's hearts, and much more!
Listen to the episode for the full story.
You can also listen to Open Space Radio on Spotify, Stitcher, iHeartRadio and other podcast services.
This episode of Open Space Radio is sponsored by Issuu — the ideal solution to bring your park and recreation program guides to life! Issuu works seamlessly with digital tools you already use, like Canva, Dropbox or InDesign, and allows you to easily create a flipbook with interactive elements and embed it on your park and rec agency's website or share via email and social media. You'll also save on printing costs – some park and rec agencies have saved over $50,000 per year by taking their program guides digital with Issuu! Get started today and get 30% off annual plans – visit www.issuu.com/go/parks. The promo code is already applied!