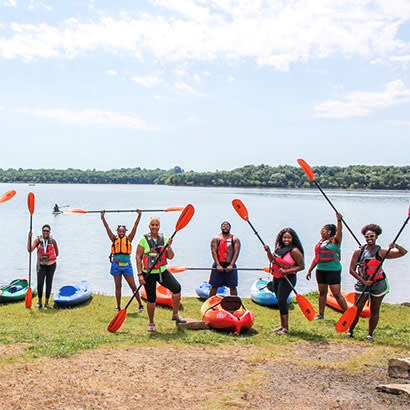 If you've been listening to the show for a while now, or if you joined us at the 2021 NRPA Annual Conference, you may already be familiar with today's guests. On today's episode, we're replaying my Coffee Talk from the conference with Dr. Kim and Claude Walker, the founders of Abundant Life Adventure Club.
Abundant Life Adventure Club is an outdoor adventure company whose membership and adventures help Black people who want to live an active lifestyle by providing a variety of organized, curated outdoor experiences with certified guides. The mission of the Abundant life Adventure Club is to empower Black people to spend time in nature to inspire wellness, abundant living and connection, and they were named one of the "Best Adventure Travel Companies" in 2021 by USA Today.
Tune in to our conversation below to learn more about Dr. Kim and Claude, what inspired them to create Abundant Life Adventure Club, and how the club has grown since the last time we spoke.
You'll also learn:
How being part of the first generation of Black people to have full access to parks and outdoor spaces has impacted Dr. Kim and Claude's relationships with the outdoors
The types of experiences Abundant Life Adventure Club provides its members in terms of physical activity, adventure, mental well-being and mindfulness
How Dr. Kim and Claude built a community and provided opportunities when people needed them most, also while working additional essential jobs
The ways Abundant Life Adventure Club has worked with Nashville Metro Parks and Recreation and other agencies
How park and recreation professionals can build partnerships with organizations like Abundant Life Adventure Club, and more!
Additional Resources:
Listen to the episode for the full story.