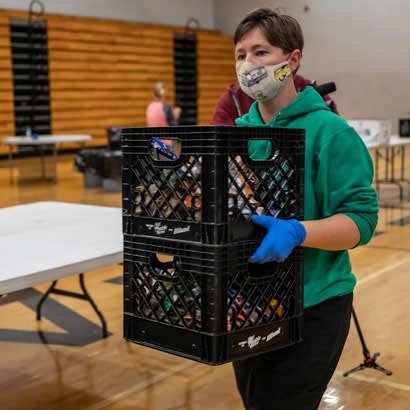 As many park and recreation agencies are putting their summer programs on hold, devising a modified schedule, or canceling programming altogether due to coronavirus disease 2019 (COVID-19), some good news around child meal programs has been announced.
The U.S. Department of Agriculture (USDA) Food and Nutrition Service (FNS) has extended three nationwide waivers from their original expiration date of May 31 to a new date of August 31, 2020. The three waivers focus on:
Non-Congregate Meals: FNS is allowing meals to be served to children outside of the normally required group setting to support physical distancing.
Parent Pickup: FNS is allowing parents and/or guardians to pick up meals and bring them home to their children.
Meal Times: FNS is waiving requirements that meals be served at certain standard times to allow for grab-and-go options. This also allows for multiple days-worth of meals to be provided at once.
With these waivers, park and recreation professionals serving meals through their agencies have more flexibility in how to deliver these meals. For many agencies across the country, the option to host a traditional in-person summer program is not viable, which puts children who depend on park and recreation programs for meals at risk of hunger. Allowing non-congregate meals enables agencies to host drive-through meal pickup sites or deliver meals through mobile programs, while parent pickup and meal-time waivers increase access to these healthy meals by allowing guardians to pick up multiple days' worth of meals on behalf of kids.
In addition to the nationwide waivers, USDA is working to approve additional states to receive Pandemic EBT, which allows households of children who would typically be receiving free or reduced-price meals through schools to receive food-purchasing benefits equal to the cost of school meals. Currently, 26 states have been approved to issue P-EBT.
NRPA continues to support park and recreation agencies on their individual paths to recovery. For more information about NRPA's response to COVID-19, as well as available resources for park and recreation professionals, please see our Coronavirus Disease 2019 (COVID-19) webpage.
Maureen Neumann is an NRPA Program Manager.
Pictured above: Martina Leforce, Berea Kids Eat Program Director, helps prepare food for children in need during the COVID-19 pandemic. Photo credit: Berea College