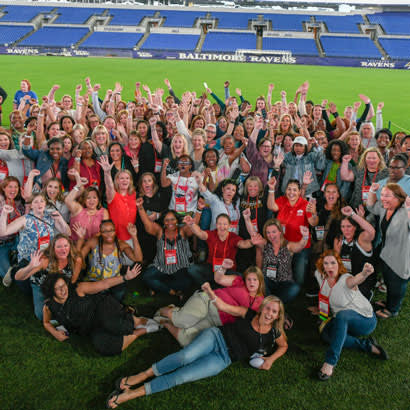 Pictured: Members of WiPaR together at the 2019 NRPA Annual Conference welcome party at M&T Bank Stadium in Baltimore, Maryland. Photo courtesy of Caught in the Moment Photography.
As we wrap up Women's History Month, I wanted to revisit an episode we released around this time last year, with three women who created quite a force in the world of parks and recreation – a group known as Women in Parks and Recreation, or WiPaR. What started as a Facebook group for women in the field to come together and share their ideas, struggles and triumphs, has now grown into a 501(C)3 nonprofit charitable organization with a goal of strengthening women in the field through networking, collaboration and learning.
On this episode, you'll be hearing from the three founding members of Women in Parks and Recreation:
Lakita Watson, an NRPA board member, former executive director of the Richland County Recreation Commission (South Carolina) and CEO of WiPaR;
Katy Keller, director of Town of Pittsboro Parks and Recreation (North Carolina) and the vice president of programs for WiPaR; and
Melanie Scoggins, business development and retention manager at Town of Leesburg (Virginia) and founding board member of WiPaR
I hope you enjoy this conversation as we discuss their experiences, as well as the inspiration behind creating WiPaR. I encourage listeners to check out their newly launched website at WIPAR.org to learn more.
Tune in to the full episode below to learn:
The importance of women having their own space to collaborate on ideas related to our field.
Some of the ways they are sharing the "mental load" of invisible work that women take on in their personal and professional lives.
What their experiences have been working through a pandemic and what challenges have been unique to women.
What advice they would give young women in the field of parks and recreation.
Some of their favorite stories and ideas that have come from the Women in Parks and Recreation Facebook group, and more!
Related:
Listen to the episode for the full story.
You can also listen to Open Space Radio on Spotify, Stitcher, iHeartRadio and other podcast services.

This episode of Open Space Radio is sponsored by The Toro Company. Introducing the all-new Toro Workman UTX, a no-nonsense, four-wheel drive utility vehicle built to stand up to the toughest tests without compromising performance. With standard commercial-grade components, the highest payload in its class and a proprietary speed control system, it's designed for the rigors of a long work week. For more information on the Workman UTX, visit Toro.com/UTX or contact your local Toro Distributor. Toro…Count on it.