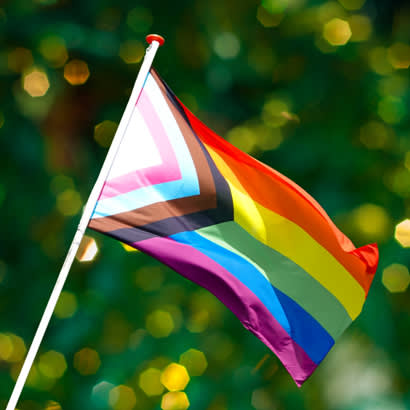 It is officially Pride Month – a time to honor and celebrate the LGBTQ+ community. And while we are thrilled to celebrate Pride Month this year, the reality is that our LGBTQ+ friends, family, colleagues and community members have been under attack.
In fact, just last week, the Human Rights Campaign, the nation's largest LGBTQ+ advocacy group, declared a state of emergency for LGBTQ+ people in the U.S. after a wave of anti-LGBTQ legislation across the country. So far in 2023, more than 525 anti-LGBTQ bills have been introduced and more than 75 signed into law – the worst year on record. Be sure to check out Human Rights Campaign's Impact Report, which shows the real-life impact of this legislation across the country, as well as their guidebook, which provides guidance for navigating states with anti-LGBTQ+ legislation. There are also ways you can make your voice heard on this important issue (link below).
And while the attacks continue, the fight for equal rights continues. As park and recreation professionals, you have the power to lead this charge through building inclusive, safe spaces, supporting your LGBTQ+ staff and community members, and creating a culture of belonging.
On today's episode, we're looking back at some of our previous episodes discussing LGBTQ+ inclusion in parks and recreation. If you haven't listened to the full episodes from each of these clips you're about to hear, I encourage you to check them out and consider what role you play in this mission. Together, we can inspire change, embrace our differences, and create a world where everyone benefits from the power of parks and recreation.
Tune in to the full episode below to hear from:
Cal Dobbs (he/they), a queer transgender ultra marathoner and long-distance hiker who is running across America — from California to Florida — fighting for the inclusion of transgender people in sports and access to gender-affirming healthcare.
Peyton Daisy O'Connor (they/she) a past parks and recreation director for Buncombe County, North Carolina, who produced a formal inclusion policy for trans kids, based on their own lived experience.
Chris Mosier (he/him), a trailblazing athlete, coach and the founder of TransAthlete.com. Chris is a six-time member of Team USA, and in 2015 he became the first openly transgender man to represent the United States in international competition.
Jason Shriner (he/him), a past marketing manager for City of Manassas Park in Virginia, who discusses how his agency was re-evaluating policies and spaces to ensure they were inclusive for LGBTQ+ people and the ways they were partnering with local LGBTQ+ advocacy and sports groups.
Listen to the episode for the full story:
Related Links: