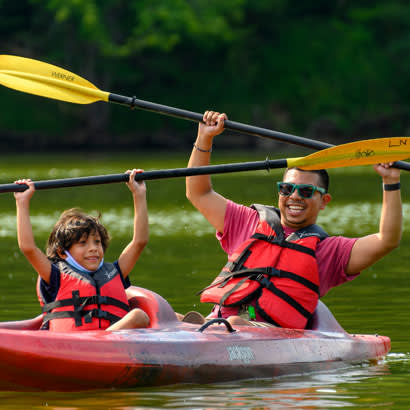 As you likely know, we are currently celebrating Park and Recreation Month here at NRPA and at park and recreation departments across the country throughout the month of July. There's also a special week that takes place in July that we are big fans of — Latino Conservation Week, which is taking place now through July 24.
Launched in 2014, Latino Conservation Week is an initiative of Hispanic Access Foundation and was created to support the Latino community getting outdoors and participating in activities to protect our natural resources. During this week, community, non-profit, faith-based, and government organizations and agencies hold events throughout the country. From hiking and camping to community roundtables and film screenings, these activities promote conservation efforts in their community and provide an opportunity for Latinos to show their support for permanently protecting our land, water and air.
On today's episode, I'm thrilled to welcome Michelle Ramirez, the public outreach specialist for Montgomery Parks (part of the Maryland-National Capital Park and Planning Commission), to talk about some of the exciting things they have planned for Latino Conservation Week in Montgomery County, Maryland.
Tune in to the full episode below to learn the history behind Latino Conservation Week, how Montgomery Parks is celebrating, and why this week is so special to Michelle. You'll also learn:
Why this week's celebration is important to the community in Montgomery County
Why it was critical for Montgomery Parks to ensure their events were accessible, regardless of someone's financial situation
What lessons Michelle has learned in coordinating Latino Conservation Week events
How your park and recreation can participate in Latino Conservation Week
How to make sure the things we learn during this week continue to be applied throughout the year, and much more!
Related links:
Listen to the episode for the full story.
You can also listen to Open Space Radio on Spotify, Stitcher, iHeartRadio and other podcast services.

This episode of Open Space Radio is sponsored by Merrell. Nature is never the same. Our partners at Merrell design footwear that is built for those who expect the very best from their work gear because they know that nature is unpredictable, and always changing. Merrell Work footwear is built to excel in the changing nature of the outdoors. Shop Merrell.com for the best in work footwear.