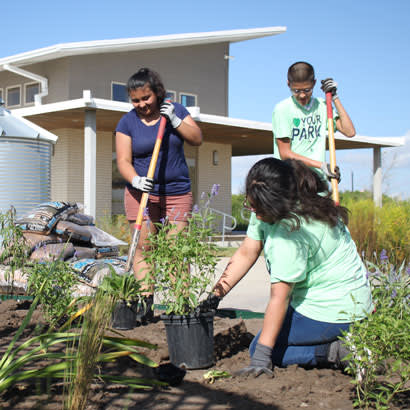 We can all attest to the power of volunteering in our communities. But, volunteering does much more than just achieve a goal — it builds resilient communities. Volunteering allows people to work together to solve issues their community is facing, forge new social bonds and create social cohesion. Not only that, but the work volunteers accomplish can foster resiliency in a multitude of ways, including environmental, health and social impacts. With communities facing new challenges every day with limited resources, volunteering provides the manpower and local buy-in for real change to occur. The United Nations State of World's Volunteerism Report highlights it as "The Thread that Binds; Volunteerism and Community Resilience."
NRPA is doing our part through the Heart Your Park Day of Service initiative. Working with companies that want to make a difference, local volunteer opportunities are organized for their employees and/or the community at large to help build resiliency and improve local park spaces. In its second year, communities have already experienced the benefits of hosting events and future communities are joining in.
Last year, NRPA partnered with Houston Parks and Recreation Department and Corpus Christi Parks and Recreation Department to host four volunteer events in each city to improve their local parks and engage volunteers. These events directly engaged nearly 400 volunteers, impacted 44 acres of land, added 2,177 plants and removed 2,100 pounds of debris and invasive species. These are just the hard numbers, but the impacts of these efforts are much more important.
Restoring Historic Coastal Prairie Areas in Houston
Houston's events focused around restoring a native ecosystem to build environmental resilience for the city of Houston, Texas. Houston was once dominated by a coastal prairie ecosystem, and many of the city parks were historic coastal prairie areas that have been filled and turned into recreation areas or overgrown with woody species from lack of management. Restoration of these historic coastal prairie-wetland areas will bring back the natural and beneficial functions of this ecosystem to the surrounding urban and coastal communities. These benefits include improved water quality, flood mitigation, erosion control and improved wildlife habitat.
To do this work, park staff collect seeds from remnant prairies around Houston and propagate the native grasses and forbs in their greenhouse with volunteers. Once the plants get large enough, they host volunteer events to get the plants installed into these sites to outcompete the invasive species and increase the diversity of vegetation that supports native wildlife. The volunteer events are crucial to getting the vegetation planted at the site and gain support from the local community in our conservation projects. Through events and work done through the Heart Your Park Day of Service, Houston will be able to strengthen their resiliency and foster a future network of park stewards.
Disaster Recovery and Building Community Cohesion in Corpus Christi
The events in Corpus Christi, Texas, were used not only to aid in disaster recovery — with planting trees and native plants to help after extreme weather events — but also to build community cohesion around the city's environmental efforts and engage the next generation of stewards. Volunteers, including local students, gathered to clear brush from a local park needing help removing invasive species, planting pollinator gardens and replacing trees lost to severe weather. All these activities help the resiliency of these cherished public spaces and the local ecosystem.
The parks saw an increase in visitor interest in pollinator gardens and the improvements to the space can be used as an educational tool concerning plant adaptation — all of which educates and bolsters support from the local community for their continued efforts. Their restoration of a local park also built a strong relationship with community members and local donors. Students forged new relationships with the park staff that will engage them in future volunteerism and help foster a culture of volunteerism and stewardship in the future generation. Several of them have applied for internships as well as continue to volunteer to make a difference.
The Future of Heart Your Park
This year, we are continuing our work with the city of Houston to continue to build resiliency through their coastal prairie habitat restoration work. We are also excited to partner with the Forest Preserves of Cook County at two of their nature preserves to improve wildlife habitat and stream corridors by bringing volunteers together to remove brush and invasive species from two of their local preserves. We are also partnering with their volunteer program to offer online training to help cultivate future and long-term stewardship leaders to take care of these nature preserves.
We look forward to sharing the future impacts of Heart Your Park Day of Service, but we know that parks rely on volunteers regularly. We should collectively share how these projects truly impact both our public spaces and the community at large. These projects build community resiliency, improve local habitat, strengthen community ownership and social bonds, provide an inclusive way for everyone to get involved and provide quick responses to a community's immediate needs.
Michele White, CAE, IOM, is NRPA's Conservation Program Manager.