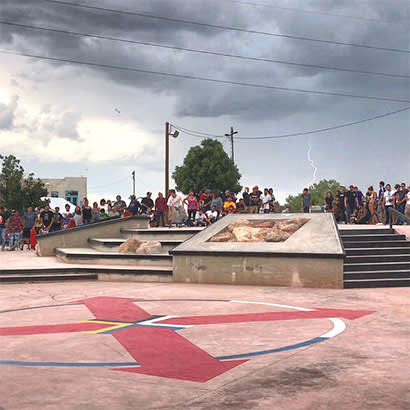 Pictured left: Members of the community gather at Gallup Skatepark, which includes a painting of the Medicine Wheel, which has been used by generations of various Native American tribes for health and healing. Photo courtesy of The Skatepark Project.
Regular listeners of the show know that I have a love for skateboarding, and, as many NRPA members and park and recreation professionals have been inquiring about the benefits of bringing skateparks to their communities, I'm excited for today's episode. And, I believe you're going to get a lot out of it if you're one of those professionals advocating for a skatepark at your agency.
On today's episode, I'm thrilled to welcome Alec Beck, the manager of public education for The Skatepark Project, formerly known as the Tony Hawk Foundation, as well as Cecely Todacheenie, a local skateboarder from Gallup, New Mexico, who was a strong advocate and youth ambassador for a skatepark project in her community.
Cecely, who is a member of the Navajo Nation (Diné) and co-owner of Enchantment Skate Shop with her husband, Jeremy, developed a love for skateboarding after finding it was a positive outlet for dealing with a traumatic event in her life. When she noticed a need in her community for a safe, accessible space to participate in this activity she loves, she worked with City of Gallup officials, as well as Alec and The Skatepark Project, to make the Gallup Skatepark — a free, public skatepark for skateboarding, roller skating, biking and more — a reality.
Tune in to the full episode below to learn more about The Skatepark Project and why the Gallup Skatepark and other skateparks across the country are such powerful tools for building community. You'll also learn:
How The Skatepark Project is bringing more skateparks to local communities
How Cecely engaged her community and advocated for the Gallup Skatepark
How skateparks can be a catalyst for equity and inclusion in a community
The importance of breaking down the stigma associated with skateboarding and skateparks
What steps a park and recreation agency should take when considering building a skatepark
What skateboarding means to Cecely and Alec, and much more!
Related Links:
Listen to the episode for the full story.