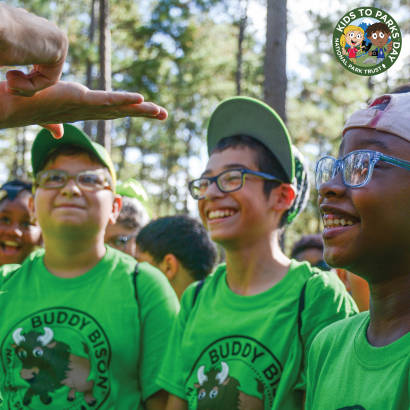 On May 20, 2017, National Park Trust invites parks and students across the country to participate in the 7th annual Kids to Parks Day, a nationwide grassroots movement to celebrate America's parks and public lands.
NRPA partners with the National Park Trust to promote Kids to Parks Day each year. This day is a great opportunity for local parks to invite the youth in their communities to come out and explore all that your parks have to offer.
Park and recreation agencies can register their Kids to Parks Day events on the Kids to Parks Day website which helps connect kids and families to your events.
For many kids, Kids to Parks Day is an event they'll never forget.
"Thank you again for the best time of my life! I hope that later on in life I could visit again. Thank you from all of us and for the fun stuff you let us experience. We love you and your wonderful place." — Jorge, Wiley Magnet Middle School, Winston-Salem, NC
Like many students nationwide, Jorge attends a school in a low-income area, where many, if not all, children qualify for the Free or Reduced Lunch Program. Many students in these under-served areas do not have access to parks or green spaces.
In honor of this day, National Park Trust is once again hosting the Kids to Parks Day National School Contest to help educators engage their students with their local parks. This national contest is open to all Title I schools and school groups in the United States. Students brainstorm and create their own proposals to fund a Kids to Parks Day event at a park or public lands/waterways incorporating elements of health through outdoor recreation, education through environmental science or history, and park stewardship.
This contest seeks to break down the barriers keeping under-served students from engaging with the outdoors. It helps build student awareness of the parks in their very own communities and the needs of those public lands. Most importantly, it provides a "once in a lifetime experience…[and] an incredible day that we will never forget," as stated by Jaylenn from John F. Kennedy Elementary in Boston, MA. Park and recreation agencies can get involved by partnering with local school to help with the proposal.
If you want to see all the fun kids had last year through the contest, you can watch the video here.
National Park Trust will award park scholarships up to $1,000 to winning entries. Scholarships can be used by the winners to implement their Kids to Parks Day event this spring. Deadline for entries is Tuesday, February 14. Winners will be announced Wednesday, March 1, 2017.