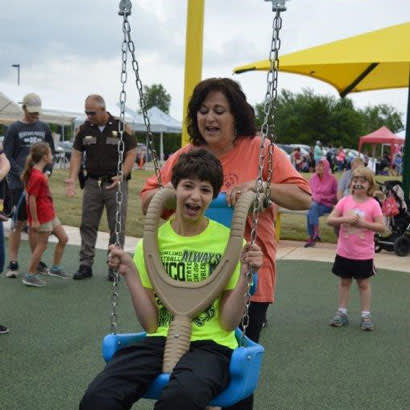 Each year, NRPA recognizes Park Champion initiative participants that have hosted their members of Congress or staff at an event at their agency with the Park Champion of the Year Award. The recipient of this award, chosen by the NRPA Public Policy Committee, is recognized at NRPA's Annual Conference and receives roundtrip lodging and airfare for two in their agency to travel to Washington, D.C., to advocate for parks and recreation on Capitol Hill. Finalists for the Park Champion of the Year Award are highlighted in NRPA's Parks & Recreation magazine and the Open Space Blog.
Designer, community activist and one of the 2017 Park Champion of the Year Award finalists, Lynly Grider, Executive Director of the Mustang Parks Foundation, has fundamentally changed inclusive play for children and adults with disabilities in Mustang, Oklahoma. During a community site visit while participating in an arts advocacy program, Grider became aware of a need for accessible art in her community. Having been involved in Mustang's park system for a few years, she found the connection that would tie art into her community: local parks. This idea evolved into the inspiration to build an accessible playground. In just two years, Grider, in collaboration with the Mustang Parks and Recreation Department, elected officials and community groups, designed, funded and built Brittany's Play Adventure — Mustang's first all-inclusive park. Brittany's Play Adventure opened on June 3, 2017.
Grider is passionate about inclusion; her 34-year-old sister-in-law and namesake for the park, Brittany, has special needs. The thought of Brittany not being able to experience the joy of play alongside other children inspired Grider to take action. She worked with Mustang Parks and Recreation Director and Assistant City Manager, Justin Battles, to establish the Mustang Parks Foundation, a nonprofit benefiting and supporting the work of the department. By engaging community members and elected officials, they gained support for the project, including residents approving funding for playground materials in a vote to extend a sales tax that had been set to expire. Through this tax, they raised the $654,000 required to build the park.
Grider emphasized the importance of engaging community members and elected officials in the process. "Building on partnerships and the knowledge of others is important. Engaging community members and building relationships with legislators advanced our cause because if they can associate a cause with someone they know, it will make a positive impact."
The Mustang Parks Foundation spent one and a half years designing and constructing the park, in partnership with Cunningham Recreation and Unlimited Play, to meet accessibility and inclusivity requirements. Community members helped build the park through community build days. "This was huge for the community to buy into the idea and ultimately take ownership of the playground," says Grider.
Through the Parks Champion initiative, which provides NRPA members with tools and resources to invite their members of Congress to events, and by leveraging well-developed relationships, Grider and volunteers successfully socialized the event. In addition to having 300 community members in attendance, U.S. Senator James Lankford and his Director of Security, Steve Carson, Mayor Jay Adams, Vice Mayor Jess Schweinberg, State Representative Leslie Osborn and State Representative John Paul Jordan, came to celebrate the playground's opening. The day opened with a morning farmer's market, music and food trucks for the community. Speeches from Senator Lankford, the state representatives, Grider, Battles, special needs teachers and parents who could now play with their children for the first time celebrated the official opening of the park.
Residents gather to support the opening of Brittany's Play Adventure
Having their elected officials participate in the Brittany's Play Adventure park opening demonstrates to representatives at all levels of government the importance of parks and recreation. The park is already well-loved, with an average of 200 visitors coming to the park daily.
When asked how the Park Champions initiative helped them accomplish this goal, Grider and Battles both agreed: "Taking the time to know our citizens, understand their needs and bring to life their ideas is so important. We believe building relationships with our legislators and elected officials at all levels is key to ensuring we can create projects and programs — like Brittany's Play Adventure — that invest in our city and our people. The Park Champion initiative was key in helping us have tools to leverage the relationships we had already built and make a difference in the lives of Mustang citizens."
Congratulations to Lynly and Justin!
Become a Park Champion! Learn more and join the Park Champion initiative.
Jayni Rasmussen is NRPA's Advocacy and Outreach Manager. Chelsea Hodgkins is NRPA's former Government Affairs Intern.
NRPA recently launched our Parks for Inclusion initiative with the goal of ensuring all people have access to park and recreational opportunities. Read more about the parks for Inclusion initiative and NRPA's commitment to the Partnership for Inclusive Health's Commit to Inclusion initiative.