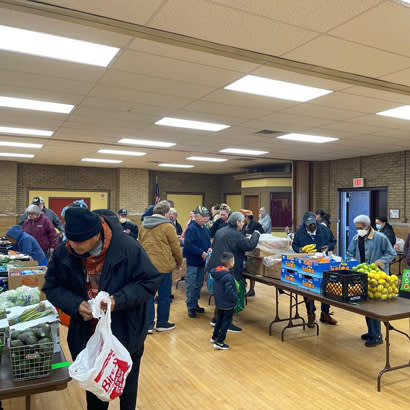 Pictured: Shoppers at Market 309 in Peoria, Illinois. Photo by Julie Eliathamby.
Parks enhance the lives of community members in many ways. As people across the country have increasingly crowded into urban areas, parks are a respite of calming green space in the urban jungle. For communities of any size, parks are a gathering place and focal point of local pride.
The face of America is changing. According to the most recent national census, Americans are getting older, and we are becoming a much more diverse country. These demographic changes are creating new needs for existing communities to address. This includes park and recreation systems.
How can an established park and recreation system adapt to the changing needs of the people using these facilities in the community? One solution is through partnerships with community organizations. These partnerships can be mutually beneficial.
A Community in Crisis
In 2018, the closure of the only full-service grocery store in the southside of Peoria, Illinois, placed a strain on the people living in some of the most diverse neighborhoods in the community. Residents, many of whom are low-income, older and without reliable transportation, are now forced to travel many miles away or rely on others to access fresh, affordable food.
I am a board member of Peoria Grown, a non-profit focused on nutrition education and healthy food access in Peoria. Our organization was started in response to this crisis and has focused on increasing food justice and nutrition education in Peoria's food-insecure neighborhoods.
A Successful Partnership Promoting Community Wellness and Food Security
Peoria Grown opened Market 309 — a weekly pop-up food market — inside Logan Recreation Center in 2021. Our partnership with the Peoria Park District has been invaluable to building this Community Wellness Hub.
The location of this facility in Peoria's Southside neighborhood and its familiarity with residents have been big assets to Peoria Grown and our programs. In return, the Park District benefits from our organization's mission-driven approach to addressing a community need, rather than assuming the cost of building an internal program from the ground up.
Through this partnership, families in Peoria's Southside can more easily access affordable healthy food within their community. This has contributed immensely to the quality of life of our customers, and many have reported to us about the positive effects that they have experienced from shopping at Market 309. This includes better health outcomes, including reductions in diabetic A1C, lower blood pressure and weight loss. Additionally, with inflation hitting everyone's budgets especially hard, it's extremely rewarding to see parents able to stock their kitchens with healthy snacks for the kids.
Promoting Equity in Wellness
The Peoria Park District and Peoria Grown have found a common cause in valuing equity in our work to promote food justice in Peoria. Through this shared value, we have built a partnership that is stronger together and better equipped to meet the health and wellness needs of our community. Most importantly, however, the families of Peoria's Southside neighborhood benefit from this partnership.
Chris McGregor (he/him) is a board member of Peoria Grown.