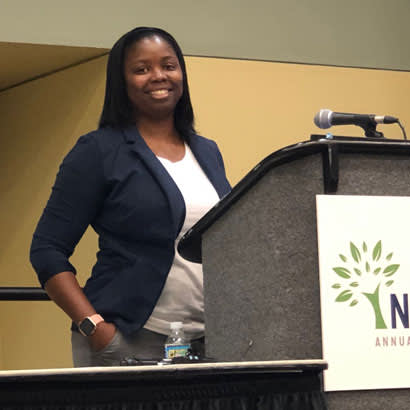 Have you ever received a call for proposals and instantly known it was your time to give it a try — to lead a training for once, and not just be an audience member? NRPA's Speed Sessions may just be your answer — it was for me. And, in light of the current COVID-19 pandemic, some of you may have time in your telework schedule or innovative solutions to challenges in your community that you want to share — if so, consider finally taking the leap of submitting a Speed Session proposal for the 2020 NRPA Annual Conference in Orlando, Florida.
I was honored to be selected as a Speed Session presenter for the 2019 NRPA Annual Conference in Baltimore, Maryland. As a first-time national conference speaker, I was both excited and nervous. However, the reception and welcome by NRPA staff and volunteers, as well as the support of my colleagues during my session, was outstanding and invaluable.
If you know you have the gift of connecting with people and have a passion you are willing to share, I encourage you to give Speed Sessions a try — they are only 20 minutes! The time will fly by and before you know it, you will have passed on a little piece of your knowledge and experience to others from all over the country.
My tip for first-timers: take training that already exists in your portfolio that could be adapted into a great 20-minute topic. It is that simple! I shortened a training I had delivered for years called "Coaching A Winning Team." I knew this would be a topic that could speak to all professions within the park and recreation field. I added in some energizers, quick questions and humor to ensure the audience remained engaged. 20 minutes later, I received thunderous applause from the hundreds of attendees who chose my session.
As a recreation professional and an advocate for coaching others in the field, the experience and accomplishment of being a Speed Session presenter is one I will forever cherish and be proud of — and I know you will too. So, why not?
NRPA is now accepting Speed Session proposals for the 2020 NRPA Annual Conference in Orlando, Florida. The deadline to submit your proposal is April 30, 2020. Learn More.
Marhonda Williams, CPRP, is the Youth Development Manager for Montgomery County Recreation, Maryland.