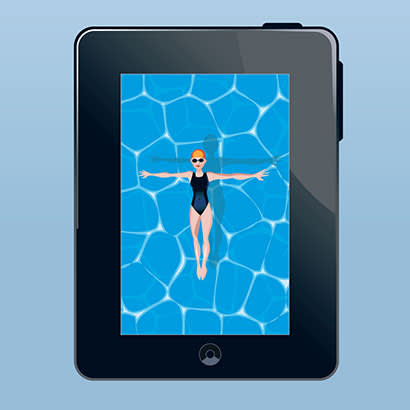 With pools, beaches and water parks closed across the country due to the Coronavirus Disease 2019 (COVID-19) pandemic, aquatic professionals are turning to digital platforms to reach our regular patrons and broaden our reach as advocates for safety and inclusive water recreation. As an industry, we're also taking proactive steps to train and supplement our in-person orientations through virtual means — potentially for the first time. Use these ideas to implement online programming and staff training in preparation for the summer, and to provide aquatics-based value to your staff and community.
Create at-home swim lesson plans
One of the unseen impacts of aquatic facility closures will be a pause in learn-to-swim programs and the consequences of individuals not improving their water safety skills. There are ways to share swim lesson curriculum for individuals to explore foundational skills in their bathtub or if they have a pool at home, or work on technical strokes through refinement videos.
Share safety-focused lessons
A huge component of our swim lesson programs and outreach efforts and events are centered on safety. As we head towards summer, consider sharing these topics on social media platforms and in emails or newsletters with your community.
Post water aerobics and workouts
Two important subsets of our daily visitors are individuals swimming for fitness (like swim teams) and those participating in organized water fitness or aqua jogging classes. Here are some unique ways to reach these users during shutdowns. These videos could be shared for free on social media platforms or your agency could generate revenue by charging for the classes using video conferencing platforms.
Suggest creative water-based projects or contests
The majority of folks are home, and some may be looking for ways to bring aquatics into their everyday life even if they don't have water or pool access. Keep aquatics at the top of their mind and relevant with these creative projects or contests perfect for kids and adults, alike.
Include operation-specific ideas
The most important connection you can make in this new, uncertain time of physical distancing is a personal connection with your regular customers. Find ways to communicate with your patrons, remind them of the staff who miss supporting their safety and fitness goals, and keep them engaged from a distance so they're excited to return to your facility. These ideas focus on bringing the unique elements of your operation into your digital programming concepts so you can build relationships at a digital distance:
Facility tours with details on swim tests and deep areas and features
Meet facility staff
Behind the scenes of staff training
Re-opening preparations and plans
Engage and train your staff
Due to the shortage and issue of recruiting lifeguards nationwide, it is important to maintain positive relationships with your current lifeguarding staff and have them remain engaged. Consider using video conferencing such as Zoom or Microsoft Teams and find new ways to communicate with your team.
Gamify technical concepts like CPR, first aid and rescue skills by translating them into interactive games — try common ones like Bingo or Jeopardy, or create aquatics-themed versions of trendy games like Headbanz or Apples to Apples
Create quizzes and tests on facility-specific elements like policies, zones, EAPs and rules
Emphasize professional development through leadership training, customer service and engagement teachings, and value-based learning

Although COVID-19 and stay-at-home orders have been one of the catalysts for virtual aquatic programming, utilizing digital platforms will be the new norm for aquatic professionals offering programs to the public and how employers develop their staff. As aquatics professionals, use these uncertain times as an invitation to explore alternate avenues and ways to connect, engage and share your passion for aquatics.
For more information about NRPA's response to COVID-19, as well as available resources for park and recreation professionals, please see our Coronavirus Disease 2019 (COVID-19) webpage.
Emily Randell, CPRP, AFO, LGI, is the supervisor of recreation facilities for City of Sarasota Parks and Recreation. Kate Connell, CPRP, AFO, LGIT, WSIT, is the aquatics program supervisor for City of Iowa City.