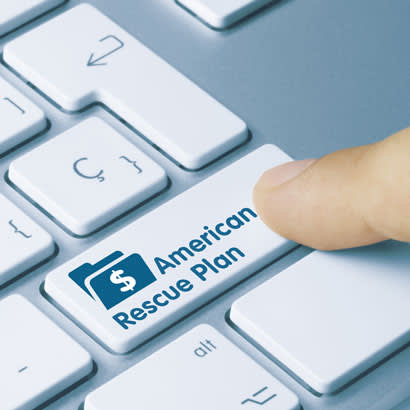 Shortly after President Joe Biden signed the American Rescue Plan Act of 2021 into law, $1.9 trillion in federal funding quickly began to flow into states and local communities to help those most impacted by the coronavirus (COVID-19) pandemic to recover, and critically, to build resiliency. State and local governments can use this funding to cover costs incurred by December 31, 2024, and all funding must be spent by December 31, 2026.
To help NRPA members maximize social and economic recovery in their communities, we have prepared an updated summary of how relevant American Rescue Plan (ARP) funds are impacting communities, how to access these funds, and our recommendations on how to advocate for projects within your community.
$10 billion for the U.S. Treasury Department to provide payments to states, territories and Tribal governments to fund broadband infrastructure, digital connectivity technology and multi-purpose community facility projects
The Capital Projects Fund's goal is to help all communities — particularly rural, Tribal, low- and moderate-income communities — gain and expand access to high-quality modern infrastructure, including broadband access, which is foundational to accessing other critical services. While broadband access and other digital connectivity projects are a key funding focus, funding may also be used to provide and expand the presence of community facilities that enable education and healthcare monitoring, among other services. States and territories can begin applying for funding on September 24, 2021; Tribal governments on October 1, 2021. Take advantage of this funding coming into your state by talking to your local government officials about projects that could be eligible under this initiative.
Combined $350 billion for States and Local Governments to address economic and social impact of COVID-19, including investment in trails, parks and open spaces
The Treasury Department issued new guidance clarifying how this $350 billion in funding to states ($219.8 billion) and local governments ($130.2 billion) may be used. Funding may be used to invest in public outdoor recreation spaces, public plazas and parks in disproportionately impacted communities, and to address maintenance and upkeep in public outdoor spaces (as Item 2.18 within this guidance document notes). Your local city government determines the use of available funding, so be sure to advocate for eligible projects in your community. Additionally, speak to your city leadership about trails and parks as critical infrastructure and tourism assets, highlighting the economic importance of trails, parks and open spaces. These conversations will help ensure parks and recreation remain eligible for the widest range of funding possible. The Department of Treasury has a database available for the amount each city, county and state will receive.
$240 million in Travel, Tourism & Outdoor Recreation Competitive Grants to help communities dependent on these activities to recover and boost future resilience
The Travel, Tourism & Outdoor Recreation Grants will be awarded in amounts ranging from $100,000 to $10 million for a variety of projects related to or supporting: cultural, arts and tourism facilities, nature-based infrastructure, zoos and aquariums, and strategy development for travel, tourism and outdoor recreation. Public or private nonprofit organizations, state, county, city or other political subdivisions, institutions of higher education, and Indian Tribes are eligible to apply. Applications are now open and are reviewed on a rolling basis; applying sooner can help increase your chances of being awarded a grant. Additional information or support can be provided by your state's Economic Development Representative.
$1 billion to expand member and volunteer opportunities, increase benefits for existing members and volunteers, and support nonprofits working in underserved communities
Three of four AmeriCorps signature programs that received funding from the ARP are AmeriCorps State and National ($645M), AmeriCorps VISTA ($80M), and AmeriCorps Seniors ($30M). The AmeriCorps issued an implementation plan and have begun to roll-out ARP related funding opportunities, and national or local nonprofits, schools, government agencies, and faith-based or community-based organizations are eligible to apply. AmeriCorps volunteers present an opportunity for NRPA members to expand critical community programming and activities, as well as grant development/research assistance. Your state service commission is the best resource for more information on this funding and the AmeriCorps program.
$21.9 billion to local education agencies/school districts for learning recovery, including afterschool and summer programs
States have begun to allocate funds to local education agencies and/or school districts with 20 percent of funds dedicated to learning recovery efforts such as afterschool and summer programs. To access these funds, the Afterschool Alliance recommends partnering with your local district and education leaders to share how your organization has previously and can support their learning recovery efforts. The Afterschool Alliance created a toolkit to help with outreach to local education leaders regarding these funds.
$8.45 billion to state education agencies (SEAs) to address student academic, social, emotional and mental health needs, including afterschool and summer programs
This amount includes afterschool ($1 billion), summer enrichment ($1 billion), and learning recovery programs that can include afterschool and summer ($6 billion) programs. States have already submitted plans to outline the use of funds, and the Department of Education is actively reviewing and approving these plans (state plans can be viewed here). As each state has its own process to allocate and distribute funds, partner with your statewide afterschool network for the latest information. Also, if your local education agency and/or school district has yet to receive the state funding they are entitled to, refer them to a September 2020 Department of Education Fact Sheet that allows them to incur allowable costs, and reimburse themselves once funds become available from the state.
$1.4 billion for programs in the Older Americans Act, including support for nutrition programs and community-based support programs
The Administration for Community Living (ACL) released funding for Older Americans Act (OAA) programs including nutrition support ($750M), caregiver and social isolation ($460M), disease prevention and health promotion ($44M), and Native American services ($25M). Additional information regarding the administration and allocation of these funds can be found through the ACL's FAQ. You can also reach out to your ACL Regional Office for additional guidance and support.
Tell Your Story
We would love to hear about your experiences accessing these new funds. If you have questions, problems or success in accessing these funds, please let us know by taking a short survey. We can make a stronger case for any future funding if we know how NRPA members have benefitted or have been excluded from previous relief funds.
To learn more about how NRPA's Public Policy and Advocacy team raises awareness of the essential role that park and recreation professionals play in every community, visit our Advocacy webpage.