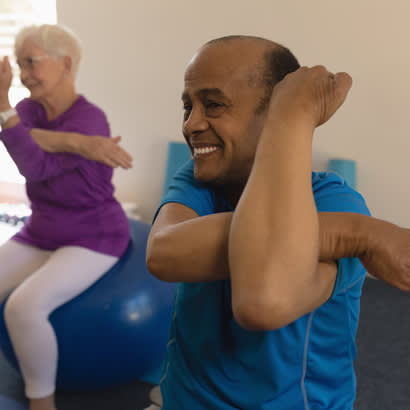 Every May, the Association for Community Living (ACL) leads the national observance of "Older Americans Month" (OAM). This year's OAM theme is Aging Unbound and is centered around the positive aspects of growing older, including how our society benefits when older adults can remain independent, engaged and included within their communities. Additionally, OAM is a great time to explore the experiences of an increasingly diverse older adult population (e.g., race, ethnicity, LGBTQ+, ability), and continue conversations about our individual and collective roles in combating ageism and traditional stereotypes associated with aging.
Park and recreation professionals are leading the charge to support healthy aging, with more than 90 percent of park and recreation agencies dedicating facilities, activities and programming specifically to older adults. Further, 71 percent of agencies characterize themselves as the leader or one of the leaders providing services and programming for older adults in thousands of communities across the community. For decades, local park and recreation agencies have been offering programs and services to address the diverse health and wellness needs of the growing older adult population. The most common park and recreation offerings to older adults include:
Opportunities to volunteer in recreation centers
Events and festivals for older adults
Arts and crafts classes
Field trips, tours and vacations
Exercise classes
With support from the U.S. Centers for Disease Control and Prevention (CDC)*, NRPA continues to assist park and recreation professionals to increase access, availability, participation and sustainable support for programs that improve physical activity, engagement and quality of life for people with chronic conditions, like arthritis, through the Supporting Healthy Aging through Parks and Recreation (SHAPR) grant. Current SHAPR grantees know that supporting healthy aging can be achieved by offering evidence-based programs like Walk With Ease, but also know there is a lot more to healthy aging than just physical activity programming. So, in collaboration with our SHAPR grantees, we developed this short list of tips for supporting older adults in your community!
1. Create a virtual community to allow older adults to connect outside of in-person events.
The Town of Mooresville Parks and Recreation (North Carolina) shared that they manage an online Facebook group dedicated to older adults participating in their programs. Through this platform, participants share videos, pictures and updates with their friends — while making new friends!
2. Plan day trips for the older adults in your community.
The City of Boise (Idaho) offers winery and brewery tours for older adults in their community. The city works with local wineries to offer tastings, tours and informational sessions for participants. To eliminate transportation barriers, the Boise Parks and Recreation Department provides adaptive recreation vehicles and passenger shuttles to transport older adults from the senior center. If visiting multiple wineries, staff will even pack snacks for participants!
3. Host an event to celebrate the older adults in your community.
Caddo Parish Parks and Recreation (Louisiana), in conjunction with Shreveport Public Assembly and Recreation, will host a Senior Day in the Park this May! Taking place in Richard Fleming Park, this event will include bingo, fishing, music, dancing and fitness for adults 55 and older. This free event will allow older adults to engage with local health and wellness resource agencies, connect with community members and spend time with nature.
4. Invite older adults to participate in new activities at your center or agency.
The City of Lake Elsinore (California) invites older adults in their community to participate in an arts and crafts group. Participants engage in rock painting, pebble art, bracelet making, wine glass painting and so many more fun crafts. To celebrate and recognize their older adults, staff members at Lake Elsinore even display the artwork of participants throughout their senior center!
5. Turn competition into partnership.
Calvert County Parks and Recreation (Maryland) knew that their local Office on Aging Department "really rocked" when it came to celebrating older adults. So, instead of viewing them as a potential threat to their own programming, Calvert County Parks and Recreation identified opportunities to collaborate with the Office on Aging Department, which has led to securing spaces for services like tax preparation, implementing intergenerational activities like story time among school-aged youth and older adults, and skill-building clubs like community gardening.
Healthy Aging is about preserving the health, independence and social connections of older adults. Whether working closely with partners or acting on their own, park and recreation professionals provide older adults with a wealth of resources that improve mental and physical health, provide social activities with others, arrange for opportunities to serve others in their community, and most importantly, allow older adults to age in place. Parks and recreation is vital to Aging Unbound.
We want to hear from you! How is your agency currently supporting older adults? What is your vision for supporting older adults in your community through parks and recreation? Let us know in the comments below.
Tiff Cunin (they/them) is an NRPA senior program manager.
---
*This project is supported by the Centers for Disease Control and Prevention (CDC) of the U.S. Department of Health and Human Services (HHS) as part of a financial assistance award totaling $460,551 with 100 percent funded by CDC/HHS. The contents are those of the author(s) and do not necessarily represent the official views of, nor an endorsement, by CDC/HHS, or the U.S. Government.