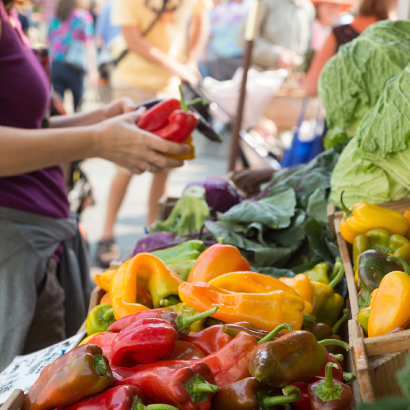 Odds are that many people see the work of America's park and recreation agencies and that of the U.S. Department of Agriculture (USDA) as wholly distinct and separate. To many, parks and recreation conjures up images of spending time outdoors enjoying nature, whereas USDA and the Farm Bill (the giant package of legislation that dictates a majority of USDA's programs and policies) probably makes most folks think more about wheat, soybeans, and nameless farmers. In reality, however, these agencies and their efforts on the ground have more overlap than you may think.
Over the last decade, U.S. park and recreation agencies have been an important part of the constellation of partners helping to catapult the farm-to-fork and local food movements from niche efforts to mainstream industries with booming consumer demand.
Park districts, park foundations and recreation agencies play host to many of our nation's nearly 9,000 farmers markets. Park and recreation agencies are also key partners to numerous community gardens — providing space and, oftentimes, resources and technical assistance. There are even some park lands that are being used as farmer training sites and as production sites to grow healthy, local food..
Indy Urban Acres, a project of the Indianapolis Parks Foundation, is a prime example of this kind of parks-meets-farm collaborative. Thanks to the support of the Indianapolis Parks Foundation, Indy Urban Acres has grown into a multi-disciplinary farm that inspires transformational change within the city's food system.
Once considered just for "foodies," today the local and regional food industry has grown by leaps and bounds, with more farmers and consumers becoming part of the farm-to-fork pipeline each day. According to USDA, the industry is growing so strongly that by 2019 sales are expected to reach $20 billion. Park districts, park foundations, and local recreation agencies all play an important — if often unseen — role in fostering this growth. These agencies, in partnership with local government and nonprofit organizations, provide vital services that help the local food industry to grow, such as nutrition education programming and healthy food access projects that create new markets for family farmers in their communities and regions.
This work has been made possible in part because federal investments made through the farm bill — that aforementioned giant package of food and farm legislation. Key farm bill programs that make this work possible include the Farmers Market Promotion Program (FMPP), Local Food Promotion Program (LFPP), and Value-added Producer Grants Program (VAPG).
Despite the potential of this growing marketplace and the success that many organizations and businesses have already seen, many American farmers continue to face challenges in accessing these promising opportunities. At the same time, many organizations with innovative ideas and approaches to fostering increased access to fresh, healthy local food have faced resource challenges. The demand and interest is there, but a combination of factors — including lack of infrastructure, appropriate financial resources, human capital, and technical assistance — have made it difficult for farmers, local governments and nonprofits to capitalize on the growing local and regional food economy.
The good news is that the 2018 Farm Bill offers a significant opportunity to continue to provide a vehicle through which Congress can knock down barriers and open doors by building upon the successful and promising policies, programs and investments made in previous versions of the farm bill.
One way members of Congress can support family farmers and local food systems in this farm bill is by supporting the bipartisan and bicameral Local Food and Regional Market Supply Act (The Local FARMS act) S.1947 / H.R. 3941. The Local FARMS Act, which is sponsored by Senator Sherrod Brown, Senator Susan Collins, Representative Chellie Pingree, Representative Jeff Fortenberry and Representative Sean Maloney, would help farmers and local communities prosper by making key investments throughout the farm-to-fork pipeline.
At the center of the Local FARMS Act is the proposed creation of the Agricultural Market Development Program. This program would help local food systems to flourish by establishing permanent funding for local food and farm programs. By consolidating existing programs into a single streamlined program, the Agricultural Market Development Program would increase access to healthy local food, help farmers reach new markets, and build up the infrastructure that connects producers to consumers.
The Local FARMS Act is a priority for the National Sustainable Agriculture Coalition (NSAC), a national coalition of 120+ member organizations that advocates for a more sustainable food and farm system, because the bill would help to unleash the vast, untapped potential in our farming and food producing communities. The Local FARMS Act means opportunity for our family farmers, as well as increased access to fresh, healthy foods for American families. As discussions and negotiations around the farm bill continue in earnest, NSAC is calling on the Senate Agriculture Committee — who are in the process of drafting their version of the farm bill — to include the proposed Agricultural Market Development Program along with the other important provisions of the Local FARMS Act.
Ask your members of Congress to support the inclusion of the Local FARMS Act in the 2018 Farm Bill.
Interested in learning more about how your agency can ag-vocate for parks and recreation in the 2018 Farm Bill? Contact NRPA's Senior Government Affairs Manager, Kate Clabaugh and watch the Park Champion webinar: "Farm to Summer: Ag-vocating for Parks & Rec in the Farm Bill."
Wes King is the Policy Specialist for the National Sustainable Agriculture Coalition and Reana Kovalcik is the Communications Director for the National Sustainable Agriculture Coalition.