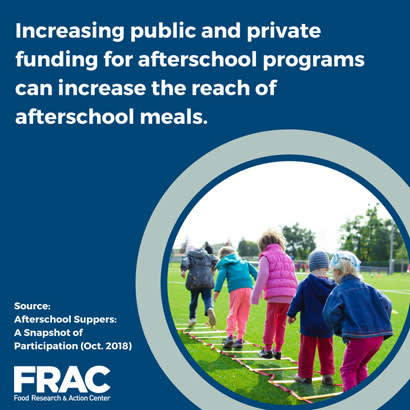 This week, the Food Research and Action Center (FRAC) released the annual Afterschool Suppers: A Snapshot of Participation report which analyzes participation data in the federal Afterschool Supper Program and Afterschool Snack Program both nationally and by state.
According to the report, more than 1.2 million low-income children benefited from afterschool suppers on an average weekday in October 2017. This represents an 11 percent increase in participation in afterschool suppers from the previous year. Despite the increase in participation, the report also found that only one child received an afterschool supper for every 19 low-income children who participated in the National School Lunch Program in October 2017.
Pairing meals and snacks with afterschool enrichment programs, such as those offered by park and recreation agencies, is cited as a promising practice for increasing participation. However, the report also notes limited access to high-quality afterschool programs as a key barrier to increasing participation in afterschool suppers, particularly in low-income communities in which children have greater vulnerability to hunger outside of regular school hours.
There are two federal programs that support program providers in serving meals and snacks in afterschool program settings. First, the Child and Adult Care Food Program (CACFP) At-Risk Afterschool Supper and Snack Program reimburses public and private nonprofit schools, local government agencies and private nonprofits for serving a supper, snack or both to children 18 years old and younger who participate in out-of-school-time (OST) educational or enrichment programming during the school year. This includes programming that occurs after school, on weekends and during school holidays. Eligible entities can provide suppers (or breakfasts or lunches on non-school days) and snacks at one or multiple sites. To qualify as a CACFP At-Risk Afterschool Supper and Snack provider, each site must be located in the attendance area of an elementary, middle or high school that has at least 50 percent of its students eligible to receive free or reduced-price school meals.
Several park and recreation agencies serve as CACFP At-Risk afterschool sites including:
Pittsburgh, PA: The Food Program Division of Citiparks, GrubUp Pittsburgh, is a unique program funded by CACFP that allows for after-school food service as well as a summer food program to ensure nutritious eating for all. Food programs are available to all children up to 18 years old, as well as mentally disabled individuals up to 21 years old.
Richmond, VA: Richmond Parks, Recreation, & Community Facilities offers a Before and After School program for children in grades K-5 includes a daily snack or meal provided by CACFP.
East Orange, NJ: The City of East Orange Afterschool Meals Program aims to close the hunger-gap for at-risk youth by providing nutritious healthy meals during afterschool hours.
The National School Lunch Program (NLSP) is the other federal program that is available to program providers to serve afterschool snacks, but not suppers. While NSLP only reimburses public and private nonprofit schools, the program allows schools to sponsor afterschool program sites that can occur on or off school grounds and may take place in the community. Like the CACFP At-Risk Afterschool Supper and Snack Program, a site is eligible to participate if it is located in the attendance area of a school where at least 50 percent of its students are eligible to receive free or reduced-price school meals. If the site is not located in an eligible area, it can still participate, but the reimbursement rate is based on the participating children's individual eligibility for free or reduced-price school meals.
FRAC's report offers several recommendations for increasing participation in afterschool supper and snack programs, including advocating for increased local, state and federal funding for afterschool enrichment programming through legislation such as the Every Student Succeeds Act (ESSA). The 21st Century Community Learning Center Program, the only federal funding stream available to support educational programming in an OST setting, is authorized through this legislation.
The report also encourages afterschool programs to capitalize on federal funding to offer meals and programming on the weekends, school holidays and unanticipated school closures as a promising practice to close the gap between school lunch and afterschool meal participation.
Access the full report below, and to learn how your state ranks in meeting FRAC's target of reaching 15 children with the Afterschool Supper Program for every 100 low-income children participating in school lunch.
Is your park and rec agency currently working with your local school district to serve as an NSLP afterschool snack site or are you serving afterschool suppers and snacks through CACFP? Has your park and rec agency been able to increase the number of children who receive afterschool snacks and suppers in recent years? Contact NRPA's Senior Government Affairs Manager Kate Clabaugh to share both successes and challenges you are experiencing in addressing childhood hunger through afterschool meal and snack programs.
Megan Phillippi is NRPA's Government Affairs Intern