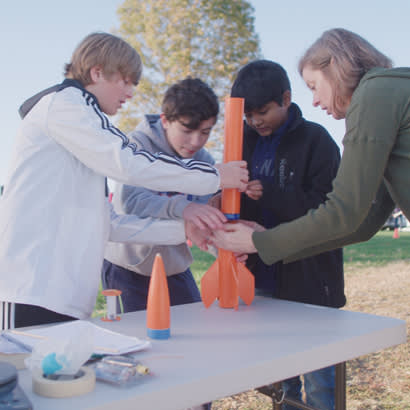 This blog post was originally published on Afterschool Alliance's blog, Afterschool Snack.
This past fall, more than 9 in 10 program providers responding to an Afterschool Alliance survey reported that they are open, with majorities providing their students with opportunities for academic enrichment, collaboration and connection with their peers, building foundational skills, and leadership opportunities.
However, while providers are increasingly reporting that they have been able to return to pre-COVID capacity limits, there are still nearly 1 in 4 providers (23 percent) who say that they have not been able to return to their regular operational capacity.
Based on responses from 1,016 afterschool program providers representing more than 7,400 sites, the brief, "Afterschool Programs Open, but Still Recovering Post-Pandemic," identifies three primary issues contributing to programs' reduced capacity:
Recruiting and retaining staff is a significant difficulty for most afterschool programs. Staffing continues to be a challenge for afterschool program providers, which is in turn affecting programs' ability to serve more students. The fall survey found that 81 percent of program providers who were serving a smaller number of children during fall 2022 report that staffing was a contributing factor for their program's reduced capacity, an increase of 10 percentage points from the spring of 2022 (71 percent). Additionally, more than two-thirds of providers (67 percent) say that hiring staff, retaining staff, or both have been at least somewhat difficult for their program. As one Utah afterschool program providers writes, "Trying to get staffing is tricky. We have had some of our openings not get any applicants. It seems like there are fewer people applying for jobs across all education careers."


The increased costs of running afterschool programs is preventing some from increasing capacity. For the first time since including the question asking providers if their weekly cost-per-child for in-person services has increased, a majority of program providers surveyed (52 percent) report that it has, 8 percentage points higher than the spring 2022 survey results (44 percent). Moreover, among providers who report that they are serving a smaller number of students than they were before the pandemic, nearly 1 in 4 (23 percent) report that it is due to the increased costs of running in-person programming.


A demand conundrum. Program providers surveyed appear to face both sides of the demand spectrum—where on one hand, 55 percent of providers are concerned about waitlists and their ability to meet families' demand for programming, and on the other, 53 percent of program providers are worried about challenges recruiting and enrolling families in programming.
A Virginia afterschool program provider sums up how the above three issues have converged for them, affecting programming: "Our primary areas of concern have been the following: 1) Finding adequate and reliable staffing; 2) Increased inflation and cost of living. We know parents are looking for the most affordable options, but operating costs are increasing with inflation; 3) Many parents are choosing to work from home and have decided to just keep their children with them."
However, there are also bright spots in the survey findings, including program providers boasting various steps to attract or retain staff, and the ability of some program providers to access COVID-relief funding to help return to normal operations. Dig into additional data from the provider survey in the full brief.
Nikki Yamashiro (she/her) is the director of research at Afterschool Alliance.