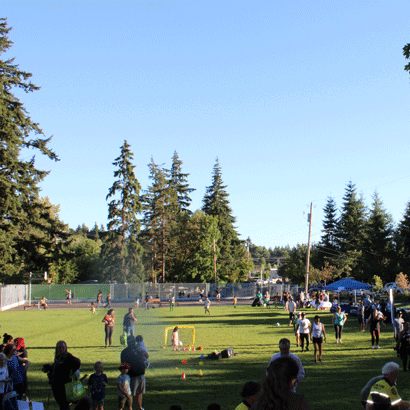 Pictured: Meet Me at the Park event at South Lynnwood Park in Lynnwood, Washington.
The NRPA team recently traveled to Lynnwood, Washington, to visit the Lynnwood Parks, Recreation and Cultural Arts Department, who was recently awarded one of NRPA's Resilient Park Access grants.
Our trip consisted of visiting local parks, meeting with members of the community who are collaborating with the department, meeting with the mayor, attending a community "Meet Me at the Park" event, and learning more about Lynnwood's ParksLove project, which is in the works thanks to NRPA's Resilient Park Access grant.
This grant is dedicated to advancing community-driven, systems-level strategies for equitable park access that improves the environmental resilience and health of communities. The grant supports park and recreation professionals in partnership with leaders from community-based organizations, and Lynnwood is one of six communities nationwide selected to advance equitable park access.
Tune in to the full episode below to learn how the Lynnwood Parks, Recreation and Cultural Arts Department is utilizing this grant as an opportunity to complete a community-driven, comprehensive park and trail capital project plan and prioritization project, centering equity in its park system planning. The department also is creating a park capital prioritization framework tool to evaluate and score all future possible park capital projects by creating equity, resiliency, inclusive and health indexes.
You'll hear from Lynnwood Parks, Recreation and Cultural Arts Deputy Director Sarah Olson, MPA, CPRP, as well as NRPA Director of Community and Environmental Resilience Ayanna Williams. We discuss:
What resilient park access means
How the ParksLove project is addressing equitable access to parks and recreation in Lynnwood
How members of the community have been brought along throughout the process
How this project supports NRPA's goals of building more resilient communities, and much more!
Listen to the episode for the full story.
Related Links:

This episode of Open Space Radio is sponsored by our partners at Merrell. For the third year in our partnership, we continue championing the unsung heroes who make outdoor adventures possible for all. Together, we're breaking barriers and ensuring that everyone can experience the joy of community growth. Shop Merrell.com and celebrate with us by visiting your local parks as we come together in the great outdoors.