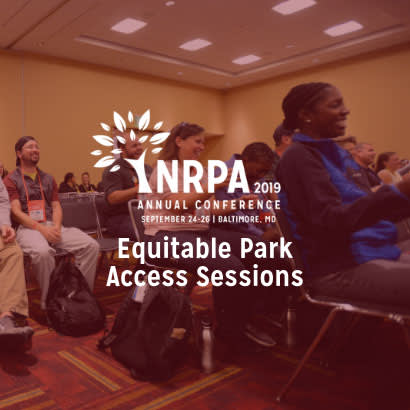 Every person deserves access to a great park close to home, but the truth is that more than 1 in 3 people do not have a park within a 10-minute walk — and those who do don't always have access to a high-quality park. Lack of safe, easy walking routes and welcoming and inclusive parks, poor maintenance, and lack of relevant amenities are some of the barriers that prevent people from accessing parks — an inequity that greatly affects underserved populations. As park and recreation professionals we must address park access through an equitable lens so that all residents, no matter their class, race, gender identity, immigration status, etc., have access to a high-quality park close to home.
Below are a few equitable park access session highlights at the upcoming 2019 NRPA Annual Conference. Through these sessions, you will learn how communities across the country are creating equitable park access through various approaches such as system-wide master plans and policies, financing, advocacy, public-private partnerships, park design, community engagement and cultural inclusion.
We look forward to seeing you at the conference and learning how you are ensuring that everyone in your community has access to a great park close to home!
Tuesday, September 24
1 p.m.-2:15 p.m. | A Systems Approach to Assessing Parks | Room 314
This session highlights the benefits of collaborating with other government agencies and community-based groups to conduct a meaningful parks system assessment through the Complete Parks approach.
1 p.m.-2:15 p.m. | Getting from a Dream to a Park | Room 336
There is a great need to re-imagine vacant urban land as amenities like multi-functional park space. But how do you get from a dream to a park? It takes vision, partnership, and grit. Parks & People, BUILD, and the 6th Branch will tell you how their partnership has resulted in beautiful, accessible neighborhood parks where there once was vacant property.
1 p.m.-2:15 p.m. | Land Acquisition 101 | Room 347/348
All you need to know on land acquisition. The presentation will cover the land acquisition process from start to finish.
2:30 p.m.-2:50 p.m. | Designed to Thrive: Three Key Components for Community Buy-In | Room 337
Inspiring public projects have a presence – an essence – something that ties us to the site and evokes a strong sense of community. Focusing on a case study, upon completion, participants will be able to identify and utilize the three key components for successful community buy-in: planning, engagement and follow-up.
2:30 p.m.-2:50 p.m. | Inviting the Angry Mob to Dinner: Strategies for Fearless Community Engagement | Room 307
During this interactive speed session, we'll discuss the ways fearless Community Engagement can have meaningful impact on your organization and community, including: bringing more residents into your conversations, empowering your agency, mitigating misinformation, and increasing staff capacity.
3 p.m.-4:15 p.m. | Master Plans, Comprehensive Plans, Strategic Plans, Needs Assessments and Management Plans: Choosing the Best Planning Process to Meet Your Needs | Room 338
Parks and recreation planning can be confusing. What's the difference between comprehensive plans, needs assessments, master plans, strategic plans, and management plans? This session reviews the purpose of the most common types of parks and recreation plans; differences in planning processes, products, and outcomes; when they should be applied; and how to get the most benefits from each.
3 p.m.-4:15 p.m. | 10 Winning Capital Investment Strategies: How to Build Successful Capital Campaigns | Room 321/322/323
This presentation will use case studies to focus on the foundational elements of a successful capital investment strategy. To effectively fund capital projects, agency leadership must be familiar with 10 critical steps in the process,
3 p.m.-4:15 p.m. | Panel: Building Evidence to Address Inequities in Youth Physical Activity: Advancing a Culture of Health through Parks and Recreation | Room 344
Children and youth from low-income families and historically underserved populations are at highest risk for physical inactivity and obesity. The Physical Activity Research Center (PARC) was created to address this challenge and will present four overlapping projects addressing the state of youth health equity and programming that shows early successes to increase activity and advocacy.
4:30 p.m.-4:50 p.m. | How to Craft a World-Class Master Plan In-House: Yes, It Can Be Done | Room 308
One problem that seems to come up for agencies during the master plan process: no budget to hire a firm. How can agencies produce a World Class Master Plan that is unbiased and represents all citizens in the community? During this session participants will learn the process and approach that Grapevine, TX took to achieve their goal of creating a Master Plan, in house.
Wednesday, September 25
8 a.m.-9:15 a.m. | A Rising Tide: Social Equity in Baltimore's Parks | Room 344
As with many cities, Baltimore has a long history of inequitable distribution of resources, and the park system is no exception. Community outreach efforts, design process and anticipated outcomes for each will be examined to evaluate how each park will serve the goal of greater social equity.
8 a.m.-9:15 a.m. | Agency Accreditation Basics: The 'Whys' and 'Hows' of CAPRA Accreditation | Room 317
Learn how agencies of all sizes can meet CAPRA standards and achieve national accreditation. Also, learn about the research and testimonials on the benefits of accreditation and how to get started. This session is directed toward agencies and individuals interested in learning more about agency accreditation. earning more about agency accreditation.
8 a.m.-9:15 a.m. | Park Advisory Committees and Park Managers: ParKners for Your Park! | Room 345/346
Regardless of district size, Park Advisory Committees (PAC) can be helpful partners for their parks from fundraising, hosting events, volunteering to advocate for government monies. This session will discuss: how to create a PAC, how to turn a PAC from being a challenge to an advocate and partner for your park, and examples of successful PAC throughout Chicago.
9:30 a.m.-9:50 a.m. | Public Private Partnerships- Are they a good solution for your project? | Room 336
Presenting the principals of a good public/private partnership. How to develop a partnership and an agreement that will develop your project but still protect the integrity of the park.
10:10 a.m.-10:30 a.m. | All Are Welcome: Building and Inclusion Policy for Your Agency | Room 338
This session will outline the necessary steps to take when developing and implementing an inclusion policy and will include a hands-on activity to help you outline your own policy.
12 noon-2:00 p.m. | Perceived neighborhood social cohesion and physical disorder in relation to older adults' walking activity and emotional well-being | Exhibit Hall Floor
The attendees are expected to better understand the role of social connectedness and support in neighborhood for the promotion of health and well-being aimed at aging population.
3 p.m.-4:15 p.m. | Designing the Great Park That Everyone Deserves: Principles, Examples and Trends | Directors Corner 301/302/303
This group of three award-winning practitioners in the planning, design, operations and programming of great parks will share their observations, conclusions and lessons learned over 75 years of professional practice. The session is divided into 4 sections: park design principals that result in great parks (with examples), cultural influences affecting park design, emerging trends in park design (with examples) and an interactive Q&A session.
3 p.m.-4:15 p.m. | Bond, Parks Bond... | Room 324/325/326
This session will explore the unique process leading up to the successful passing of the City of Doral's $150M parks-specific bond referendum. This session will explore, through multiple lenses, what factors and strategies helped make this historic bond referendum successful and how communities of all sizes can apply them within their own unique context.
3 p.m.-4:15 p.m. | Creating, Improving, Protecting and Advocating Through Sustainable Private-Public Partnerships | Room314
This session presents Houston as a case study in large-scale, collaborative public-private planning, funding and execution focused on parks and green spaces. The presenters will show how these collaborative efforts are achieving scaled impacts, improving public green spaces, ensuring they are equitably distributed and accessible and helping define their important role in community resilience.
4:30 p.m.-4:50 p.m. | A Socio-demographic Examination of Greenway Access and Why It Matters | Room 341
It is critical to examine whether neighborhoods with different demographic and socioeconomic status have equal access to greenways. This study focused on the recently completed extensive greenway system in San Antonio, Texas, to examine the relationship between access to greenways and neighborhood sociodemographic factors in San Antonio.
Thursday September 26
8 a.m.-9:15am | New Insights from the Assembly: Civic Design Guidelines – Shaping Parks for Civic Life | Room 339
This engaging session will bridge research and practice. Diverse professionals from Memphis, NY, and beyond will discuss Assembly's evidence-based approach to shaping community design, sharing new insights emerging since the Guidelines were published in '18. Facilitated, interactive discussions will leave participants with a better understanding of practical strategies for shaping civic life through park design, programming, & maintenance.
8 a.m.-9:15 a.m. | Creating Parks and Public Spaces for People of All Ages: A Step-By-Step Guide | Room 321/322/323
Research shows our parks and park systems are falling short for children and older adults, despite the many benefits quality parks can provide. Building off the campaign and goal for communities to have a quality park within a 10-minute walk of all residents, this session will provide useful tools, strategies and inspiration from our age-friendly parks guide, a collaboration of 80 Cities, AARP, and The Trust for Public Land.
9:30 a.m.-11:45 a.m. | Parks with Purpose: Comparing Collaborative Models for Community-Inspired Parks and Greenspaces | Room 321/322/323
This session brings together park practitioners from 4 cities to discuss key factors for successfully creating community-driven greenspaces centered on equitable outcomes in vulnerable urban communities.
11 a.m. -12:15 p.m. | Expanding Universal Design and Accessibility in Parks and Playgrounds | Room 342
This session will address how NYC Parks goes above and beyond mere compliance with the Americans with Disabilities Act (ADA) to provide increased access and opportunities for recreation and participation for all persons with disabilities and their mobility devices.
11 a.m.-12:15 p.m. | Race and the Control of Public Parks | Room 316
This session examines the relationships between parks, design, and the right to the city, to ask: How, when, and for whom are parks created? This award-winning work analyzes 100 years of Dallas history, tracing the migration of racial/ethnic populations across the city in relation to the development of the city's park system.
1 p.m.-2:15 p.m. | Creative Alliances for Park Access and Health Equity | Directors' Corner 301/302/303
Panelists will provide an overview of new research from the Urban Land Institute on leading practices in multi-sector collaboration to create, maintain, program and enhance access to parks and open spaces. Panelists will highlight examples of communities around the country that have successfully leveraged real estate development and urban transformation to improve park access and promote health.
1 p.m.-2:15 p.m. | Expanding the Role of Parks and Recreation in Improving Park Usage Through Safe Routes to Parks | Room 336
In some communities, lack of sidewalks, crosswalks and other infrastructure paired with a presence of violence, crime and street harassment make walking or bicycling to a park unsafe or uncomfortable. Creating safe and accessible infrastructure and good street networks can increase accessibility and serve as an extension of a park system by lining streets with trees and vegetation that link to other destinations.
1 p.m.-2:15 p.m. | Meet Me at the Park: One Million Kids and Families with Greater Access to Play | Room 317
Meet Me at the Park is a collaboration between NRPA and The Walt Disney Company to bring the magic of parks and recreation to children and families across the United States. This session will showcase some of the innovative projects that were instrumental in the program's success as well as share the benefits of improving play spaces in communities, including increased use and physical activity.
1 p.m.-3:15 p.m. | Measuring What Matters: Quantifying the social impacts of our parks and public spaces | Room 339
This workshop will share a metrics framework, provide easy-to-use measurement tools, offer examples from Memphis and Detroit of engaging frontline staff and community residents and encourage participants to reconsider how manage and measure their own parks.
2:30 p.m.-3:45 p.m. | Urban Trails: Placemaking and Connectivity at the Heart of Thriving Communities | Room 321/322/323
From Baltimore's urban core to Carmel, Indiana's bustling suburban landscape, explore case studies where visionary investments in trail networks are transforming public spaces, prioritizing people-powered mobility, inspiring equitable and community-driven investment strategies, generating hundreds of millions of dollars in new development, and creating access to the outdoors for millions of Americans.
Rachel Banner is NRPA's Director of Park Access.