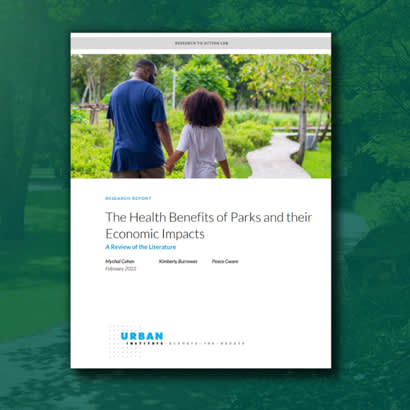 Park and recreation professionals frequently share data on the economic impact of parks with local decision makers and elected officials when advocating for increased support. Most often, the economic value of parks relates to property values, tax revenue, tourism revenue and local business development. Like these contributions to the local economy, the health benefits of parks also have economic value.
What are the health benefits of parks and how do we measure them?
How much do the health benefits of parks contribute to the local economy?
Which health benefits can best convince local stakeholders of the value of parks to generate increased investment?
Where are the biggest gaps in accessing parks and their health benefits and how can we address them?
These are complex and important questions with answers that can be compelling in advocating for greater park and recreation support from local stakeholders. Economic health benefits are inherently difficult to measure because they are often based on cost savings or cost avoidance, rather than revenue generation. The economics of health also involve many factors that are beyond the typical scope of parks and recreation. Nonetheless, the health benefits of parks are significant contributors to the local economy and measuring them in a systematic way gives park and recreation professionals a powerful new data set to demonstrate the value of parks. The measurements are valuable but require extensive research that, frankly, most park and recreation agencies just don't have time for. Good news: help is on the way.
Since 2015, NRPA has published multiple studies highlighting the economic activity supported by local park and recreation agencies' operations and capital spending. In 2019, the operations and capital spending of the nation's 10,000+ local park and recreation agencies generated $218 billion in economic activity and supported 1.3 million jobs. Those studies, however, did not consider parks and recreation's other economic impacts.
NRPA has partnered with Urban Institute to create a new tool to expand the conversation around the economic value of parks to include health-related benefits and outcomes. For more than 50 years, Urban Institute has advanced the well-being of people and places through evidence-based economic and social-policy research. With generous support from The JPB Foundation, Urban Institute and NRPA have produced A Framework for Assessing Equitable Health Outcomes of Parks.
This novel framework proposes a method for measuring the economic impact of parks' health benefits while also assessing the equitability of park access within a park system. Put another way, the framework measures the economic benefits of equitable parks. The methodology is rigorous, but the ideas are simple: Parks make people healthier. Healthier people make the economy stronger.
Equitable access means more people enjoy the benefits of parks, which creates healthier communities and stronger economies. When local decision makers and elected officials see a clear connection between parks, healthier communities and economic prosperity, they are more likely to increase their support of park and recreation agencies.
Using publicly available data, the framework equips park and recreation professionals with guidance and tools to do three things:
Asses how equitable their park system is.
Identify how their park system improves health outcomes of users.
Calculate the economic value of equitable health benefits.
This yields two main results. 1) An assessment of how equitable the park system is, and 2) the health-related economic benefits of the park system. With this data, park and recreation professionals can make better decisions to improve the equity of the park system and more convincingly advocate for increased investment in parks and recreation at the local level.
The framework uses five steps:
Step 1: Identify park characteristics.
Step 2: Examine who has access.
Step 3: Select and measure health outcomes.
Step 4: Estimating economic benefits.
Step 5: Drive equity through action steps.
Each step guides users through using publicly available data sets to create assessments tailored to their local parks system. Watch for an upcoming blog post that works through the steps in greater detail.
This exciting new tool streamlines the research process to yield meaningful and actionable data. The results enable park and recreation professionals to make a measurable health-based case for the value of parks and equitable park access. Making a health-based case for parks and recreation will add to your agency's cadre of advocates that will ensure greater and more sustainable funding for the future.
Later this year, look for a companion set of tools and resources that will help you make the health and wellness economic case for parks and recreation.
Kevin Roth, Ph.D. (he/him) is Vice President of Research, Evaluation and Technology at NRPA.
Kelby Rose, Ph.D. (he/him) is a Technical Writer at NRPA.