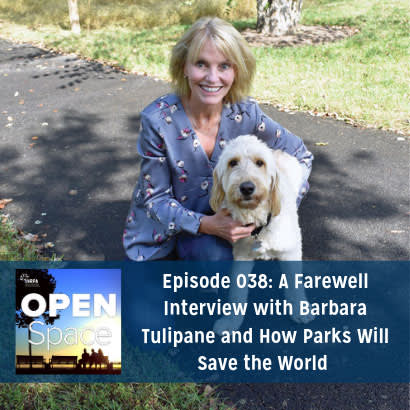 Today's episode is slightly bittersweet. The exciting part is that we're chatting with Barbara Tulipane, NRPA's president and CEO, about the incredible 11 years she has spent helping transform NRPA into what it is today. But we can't help being saddened that we're having this discussion because of her upcoming retirement in June.
On this episode, we talk with Barbara about what she's learned during her tenure as our fearless leader, as well as why she thinks that parks are one of the last places for tolerance. We also chat about parks and recreation being a cure for loneliness and depression, and whether or not Barbara thinks parks are going to save the world (spoiler: she absolutely thinks parks are going to save the world).
Barbara also shares stories about the incredible things she has seen during her time at NRPA that truly show the power of parks and recreation. Among them, she recalls the time that she was touring a recreation center when a young boy who had just been stabbed ran inside looking for help. The interesting thing — and one that proves the scope of parks and recreation — is that the boy was not stabbed in the park or recreation center. He ran to the recreation center because he knew that it was a safe place where he could get the help he needed.
This instance alone shows how when there is a need in the community, park and recreation professionals step up and fill that need, day-in and day-out. The same goes for Barbara. She stepped up and not only led NRPA in growing its membership substantially, but also helped it grow into the respected association it has become. There's also a lot to be said about the culture that Barbara has fostered internally here at NRPA. Barbara encouraged robust conversations among people with sometimes opposing ideas, and she admits to loving when some of the younger staffers here challenged her (and challenge her we did).
Tune in below to hear Barbara reflect on the past 11 years as NRPA president and CEO, and please join us in wishing her the best in her retirement. She will truly be missed, but this isn't goodbye, it's just, "See ya later — in the park!"
Listen to the episode for the full story.