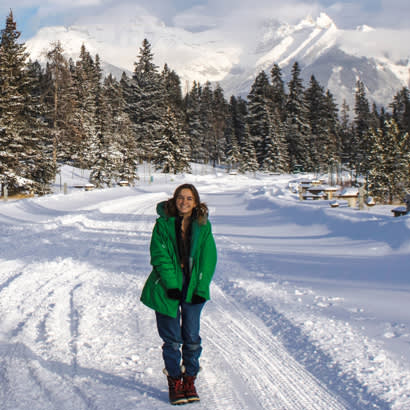 Pictured: Christina High (she/her), NRPA's marketing coordinator, stands on a snowy road in front of snowcapped mountains.
If you've been following NRPA on social media, you may already be familiar with my guest today via some very fun, informational, and engaging Instagram reels that have been gracing your feeds for the last few months.
Today I am so excited to be joined by my colleague and the amazing person behind all of NRPA's social media content, Christina High. Christina joined the team as our marketing coordinator in 2022, and she has been doing some really amazing work ever since when it comes to rethinking our social strategy, what kind of social content we're producing, and continuing to build an engaged social media community.
Recognizing the power that social media has nowadays, and how there are many ways park and recreation agencies and professionals can be using social media to their advantage, I'm really excited for our listeners to get some of Christina's insight today.
Tune in to our full conversation below to learn more about Christina and how she's using social media to highlight the power of parks and recreation. You'll also learn:
How parks and recreation can be a positive corner of the internet/social media
Why social media is such a valuable tool for park and recreation agencies to use in their awareness, education and marketing efforts
Things to consider when creating a social media plan or strategy
What kinds of trends are performing best on the various social media platforms
Tips for ensuring your social media posts are inclusive and accessible
How to build an engaged community on social media, and much more!
Listen to the episode for the full story.
Additional Resources: