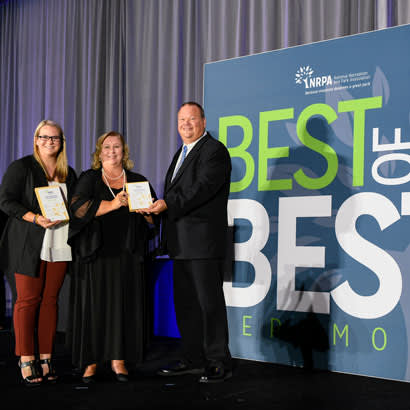 Applying for an award can seem like a sizeable task to take on when one's to-do list is already lengthy, but it can be well worth the effort as the winners of the 2019 RWJF-NRPA Health Equity Award can tell you. Tina Fleming and Lindsey Jorstad share their thoughts below, but first, a look at the award itself:
The Robert Wood Johnson Foundation (RWJF)-NRPA Award for Health Equity recognizes an individual, or team of no more than two individuals, who has successfully implemented a systems change approach to reduce health disparities in their community within the past two years. The award supports RWJF's Culture of Health initiative that seeks to ensure that everyone has an equal opportunity to live in healthy environments. The awardee(s) will receive a $3,000 prize and an opportunity to be recognized nationally — both at the NRPA Annual Conference and at an annual RWJF ceremony.
Any individual or team of individuals affiliated with a local park and recreation agency (e.g., employee, board member, city official, public health department employee, advocate, etc.) should consider applying. Applicants are welcome to self-nominate or nominate a deserving peer. The local park and recreation agency must be a member of NRPA.
"Being recognized by the Robert Wood Johnson Foundation and National Recreation and Park Association for the 2019 Award for Health Equity is a compilation of the success of Live Healthy Gwinnett in the Gwinnett community over the past 5 years," said Tina Fleming, director of community services at Gwinnett County Government. "When Live Healthy Gwinnett 'took flight' only five short years ago, parks and recreation organizations across the country were only beginning to realize the role they play in the healthcare system in their communities, and this award shows that they are leaders in the overall health of a community. With dedication and lots of enthusiasm, Lindsey and I set out to ensure that in Gwinnett County parks and recreation were an integral part of the health of our community through established community partnerships and collaborations. The success of the Live Healthy Gwinnett and this award is shared with all those wonderful community partners, as well as the community who has invested in the initiative by engaging in the four major wellness areas: Be Active, Eat Healthy, Be Positive and Get Checked."
"Receiving the RWJF–NRPA Award for Health Equity has allowed Tina and me to share our story of launching a dedicated community wellness initiative rooted in a parks and recreation system nation-wide. Not only have we been able to recognize our community partners who believed in this type of innovative systems-change approach and thank them for their ongoing support, but it has led to new partnerships that Live Healthy Gwinnett is excited to explore," said Lindsey Jorstad, CPRP, outreach manager for Gwinnett County Government. "I see this award as more than a personal victory, but a commitment to the parks and recreation field to lead other agencies in telling their stories, creating their community wellness initiatives, and being a strong and necessary force for health equity. I am so proud of what Live Healthy Gwinnett has been able to accomplish over the past five years and even more excited to leverage this award recognition to help others lead the charge of creating equitable environments in their communities. Go parks!"
Learn more about the NRPA awards, fellowships and scholarships. Applications were due by April 10, 2020. Winners will be announced this summer and recognized at the 2020 NRPA Annual Conference in Orlando this October.


Suzanne Nathan is NRPA's Public Relations Manager.