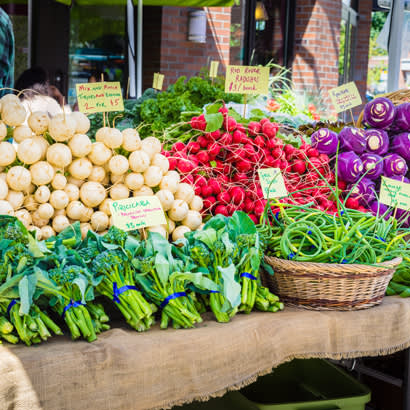 In 2021, NRPA was awarded funding from the United States Department of Agriculture's Farmers Market Promotion Program (USDA FMPP) to provide outreach, training, technical assistance and resources to local park and recreation agencies and community-based organizations in Vivian, Louisiana; Kerman, California; and Berea, Kentucky, to increase the ability for park and recreation agencies to develop innovative strategies that expand farmers markets and other direct producer-to-consumer opportunities. This grant is also focused on advancing equity-centered strategies in support of continued COVID-19 response and recovery, and to help park and recreation professionals as they expand their agencies' roles as Community Wellness Hubs.
As we begin our second year of this three-year grant, we are excited to share some incredible impacts made during this first year.
Grantee Impacts
All grantees were supported by NRPA and industry consultants to expand their farmers markets with equity-centered strategies. In the past year, two supplemental farmers markets were established in Whitesburg, Kentucky, and Vivian, Louisiana, increasing the number of farmers markets across the three grantees from four to six. All markets successfully increased their number of vendors, customers and sales, all while navigating climate-driven pressures in their communities and advancing equity-driven assessments and policies.
While growing their farmers markets, grantees also used the Elevating Health Equity in Parks and Recreation: A Framework for Action to complete equity assessments and develop an Equity Action Plan and Market Engagement Plan for their respective markets. Grantees worked to reduce barriers to accessing local produce in their farmers markets by conducting visitor and vendor surveys, community needs assessments, improving traffic safety and accessibility of the market for persons with ambulatory challenges, offering free meals at the market, and supporting vendors with SNAP acceptance.
As a result of these efforts and effective market promotion, market customer attendance increased by 45 percent and farmers market sales increased by 99 percent across the grantee communities.
Not only do farmers markets increase community access to nutritious foods, but they are vital to supporting the health of local food systems. Increased sales for local farmers support the continued production of local produce for community members to access.
Community of Practice
In addition to supporting three grantee communities, NRPA launched a Farmers Markets in Parks and Recreation Community of Practice (CoP) with 14 participating agencies. Members of the CoP support farmers markets in parks and recreation across the country and share a common goal of wanting to share, learn and develop best practices for centering equity in their farmers markets. Over a seven-month period, the CoP gathers monthly to share challenges, successes and promising practices on a variety of topics identified as most pressing by members of the CoP.
A second CoP for Farmers Markets in Parks and Recreation will launch in June 2023. Applications to join the second iteration of this CoP will open in the spring and all agencies who support farmers markets in park and recreation settings are encouraged to apply!
To learn more about farmers markets in parks and recreation, visit our Parks and Recreation and Farmers Markets webpage.
Liliana Ruiz Fischer (she/her/ella) is a Program Manager at NRPA.