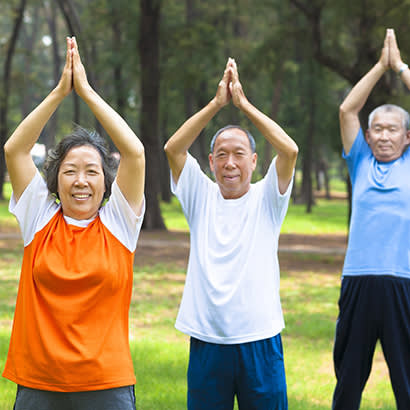 World Arthritis Day is October 12! More than 58 million people have been diagnosed with arthritis in the United States — that's 1 in 4 people who are living with and managing arthritis daily. As both life expectancy and the number of individuals who are 65 years or older increases, the prevalence of arthritis also will increase. Parks and recreation has proven to be integral in helping individuals prevent and manage chronic conditions like arthritis by providing evidence-based physical activity and health education programs in a community-based setting.
Since 2016 and with support from the Centers for Disease Control and Prevention (CDC),1 NRPA has been helping more than 360 park and recreation agencies implement more than 1,000 arthritis-appropriate, evidence-based interventions (AAEBIs) — Active Living Every Day, Enhance Fitness, Fit&Strong!, and Walk With Ease — in 49 states and the American Samoa. These programs have reached more than 25,000 participants. Through this work, we have witnessed numerous successes in communities across the country as park and recreation professionals implement AAEBIs to improve the quality of life for people with arthritis.
Not only have we heard from participants and park and recreation professionals about the positive impact these programs have had on their communities, but also we have learned valuable lessons about supporting adults with arthritis through parks and recreation. Here are five tips for supporting adults with arthritis in your community:
1. Engage your key stakeholders in arthritis program planning.
Gathering information for all potential stakeholders and beneficiaries is key to successful program design and implementation. By engaging adults with arthritis during listening sessions, focus groups, or more informal opportunities like tabling at a farmers market, you can learn what your community wants and needs, and then can weave their perspectives into the design of your program.
2. Revisit or expand partnerships with other community-based organizations.
Engaging with potential partners is a great way to understand your community's current needs, assets and resources, while allowing you to gather information from diverse sources. Many of you likely have partnerships with other community-based organizations like schools, libraries and faith-based organizations. Revisit these partnerships to help identify common visions and objectives to support adults with arthritis in your community. Partnerships with other like-minded, community-based organizations can help you recruit and train instructors for arthritis programing, reach your target audience, and may even find new space for your programming!
3. Get creative with marketing and communications.
Engaging key stakeholders including community members and partners likely will provide you with a great snapshot of how to best market the programs and services you have that support adults with arthritis. Simple fliers posted at a grocery store will be visible to many people in your community, but can become white noise in the background. Be courageous with your marketing and communication efforts. One example of doubling-down on a simple flier posted at a grocery store is to see if your local utilities company (e.g., electricity, water, sewer) will allow you to "stuff" the bill envelope with your program flier or have the program information printed on the bill. This strategy was effective at increasing participation in arthritis programming at Newport (Oregon) Parks and Recreation 60+ Activity Center, where the majority of community members over 65 years of age receive paper utility bills rather than online.
4. Conduct a walkability audit of your community and your facilities.
Not everything you do to support adults with arthritis in your community has to be at your park and recreation agency. Walking has been highly recommended to promote health and wellness for the general population, but for people with arthritis, walking has been shown to improve function while reducing pain. A walkability audit will help you better understand which environmental features of your community support or preclude walking by individuals with arthritis. These audits can help you guide adults with arthritis in your community to safe routes and may even lead to some environmental changes at the community-level to support walkability! The Osteoarthritis Action Alliance has created a guide to you learn more about walkability audits.
5. Think differently about what supporting adults with arthritis looks like.
Supporting adults with arthritis in your community is not only about offering appropriate physical activity and health education program, but also is about building community and social connections. Use observances like World Arthritis Day to raise awareness of arthritis in your community. Maybe on that day or during the week you can host a continental breakfast at your agency to bring individuals with arthritis together with others who want to learn more about the condition. You also can incorporate social events into your programming. Perhaps you can integrate a costume contest into your programming during October, or host a New Year's mixer following one of your arthritis program sessions in January.
Since today is World Arthritis Day, this is a great time to share that with the support of CDC, NRPA will support up to 55 communities with instructor training grants and start up materials to implement one of five AAEBIs: Active Living Every Day, Enhance Fitness, Fit&Strong!, Tai Chi and Walk With Ease. The goal of this project is to increase the equitable dissemination of AAEBIs and close the gap on arthritis disparities experienced by Black, Indigenous, people of color, people who are low income, people with disabilities, and people living in rural communities. You will be able to access this opportunity from NRPA's Grant and Fundraising Resources page around October 18!
Until then, we would love to know how you support adults with arthritis in your community! You can share in the comments below or email us at healthyaginginparks@nrpa.org.

Tiff Cunin (they/them) is an NRPA senior program manager.
1. This project is supported by the Centers for Disease Control and Prevention (CDC) of the U.S. Department of Health and Human Services (HHS) as part of a financial assistance award totaling $460,551 with 100 percent funded by CDC/HHS. The contents are those of the author(s) and do not necessarily represent the official views of, nor an endorsement, by CDC/HHS, or the U.S. Government.