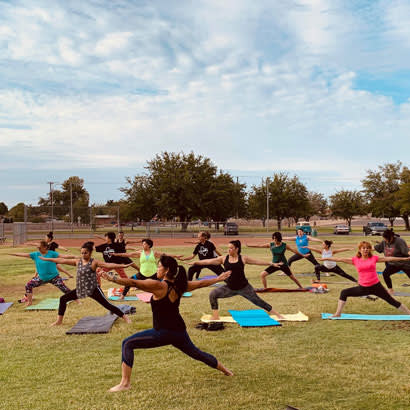 Pictured: Community members participate in a yoga class held by El Paso Parks and Recreation. Photo courtesy of El Paso Parks and Recreation, El Paso, Texas.
Each May, we recognize the importance of mental health during the annual Mental Health Awareness Month. This month plays a key role in helping to elevate the growing mental health crisis and normalize conversations about mental health, while also helping people living with mental illness continue to access treatment, services and resources so they can continue to thrive.
According to the National Alliance on Mental Illness, one in five U.S. adults and one in three U.S. young adults (ages 18-25) has experienced a mental illness, and one in five adults and young people also reported that the coronavirus (COVID-19) pandemic had a serious impact on their mental health. With the impact of the pandemic, more people have been seeking out support, treatment and mental health services than ever before, widening the gap in access to mental healthcare.
Parks and recreation play a critical role in supporting the mental health of communities, from both a prevention lens and helping to support community members coping with mental health conditions or in need of treatment. In fact, 93 percent of U.S. adults believe that parks and recreation are vital to their mental health and well-being and numerous studies and research has confirmed that parks, green space and time spent in nature results in positive mental health outcomes.
Time spent in nature positively impacts mental health by increasing cognitive performance and well-being and alleviating illnesses such as depression, attention deficit disorders, and Alzheimers.

¹

Access to parks and green space exposure correlates to reductions in stress and symptoms of depression as well as improved attention and mood.

²

Mental health is significantly related to residential distance from parks. People living more than 1 kilometer away from a green space have nearly 50 percent higher odds of experiencing stress than those living fewer than 300 meters from a green space.

³

Physician-diagnosed depression was 33 percent higher in the residential areas with the fewest green spaces compared to the neighborhoods with the most.

⁴

Parks promote positive mental health by providing access to nature focus and encouraging recreational and sporting activity.

⁵
As local park and recreation professionals continue to champion their spaces, services and systems to serve as Community Wellness Hubs, here are 10 actions you can take this May to amplify your role in supporting mental health!
1. Consider expanding your programmatic offerings that promote mindfulness. This may include offering programs like outdoor Yoga or Tai Chi, nature walks and forest bathing, volunteerism and community service opportunities, journaling, painting or other visual arts opportunities, or guided walking meditation on local trails.
2. Encourage staff or offer staff the opportunity to obtain a certification in Mental Health First Aid, a skills-based training course that teaches participants about mental health and substance-use issues.
3. Use NRPA's Mental Health and Substance Use Disorder Language Guide to assess written and verbal communications across your agency, helping staff and community members to use non-stigmatizing language.
4. Host a community event that features local service providers, community resources, prevention activities, and mindfulness programming to build awareness of mental health across the community.
5. Assess your facilities to promote mental health. This may include limiting noise and sensory overload, integrating plants, greenery, and soft light into indoor spaces when possible, using warm and soothing colors on signage and graphics, and keeping an organized and clean environment.
6. Kickstart or reinvigorate an employee wellness program that focused on holistic health and well-being and includes sharing resources (like the Trauma Stewardship Institute's Tiny Survival Guide shared during NRPA's Virtual Conference in 2020), planning engagement activities, and creating space for conversations about mental health and self-care in the workplace.
7. Join a local community coalition focused on expanding mental health awareness. Leverage your organization's networks and resources to help advance community-wide practices, policies, norms and other approaches.
8. Conduct well-being checks on community members or assess and modify your outreach strategies to promote social connection and help community members form stronger social connections with one another.
9. Encourage your community to get moving! Physical activity of any kind is great for mental health. Use NRPA's toolkit and promotional materials to promote Family Health and Fitness Day, held on June 11, 2022.
10. Use your communications channels to promote the mental health benefits of parks, green space and nature. Use the data points in this blog post, or check out additional supporting data points here!
Let us know how you're elevating mental health this month by connecting with NRPA on social media!
Mental health is a critical part of overall health and well-being. In recognition of the role parks and recreation play as Community Wellness Hubs, NRPA has been recognized by the Office of Disease Prevention and Health Promotion (ODPHP) within the U.S. Department of Health and Human Services (HHS) as a Healthy People 2030 Champion. Read how you can become a Champion and advance the Healthy People 2030 initiative: https://health.gov/healthypeople/about/healthy-people-2030-champion-program.
---