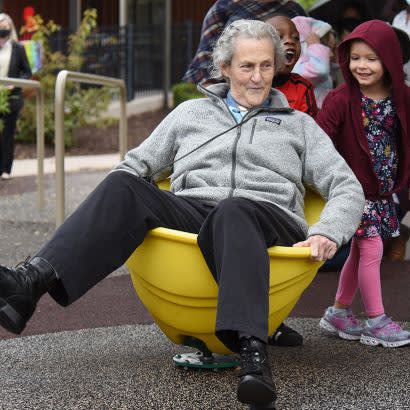 The September issue of Parks & Recreation magazine is out now, and on today's bonus episode of Open Space Radio, we're diving deeper into one of this month's feature stories, "Dr. Temple Grandin on the Importance of Outdoor Play."
On this episode, I'm thrilled to be joined by Dr. Temple Grandin, a professor of animal science at Colorado State University, world-renowned scientist, animal behaviorist, advocate for autism and author. She has appeared on television shows such as 20/20, 48 Hours, CNN's Larry King Live, PrimeTime Live, 60 Minutes, the Today Show and more.
In 2010, Time Magazine named Dr. Grandin one of the 100 most influential people. She has also played a key role in designing play equipment and recreational spaces that are more inclusive for people with autism and others with different minds.
And, if you're planning to join us at the 2022 NRPA Annual Conference in Phoenix this September 20-22, you will have the opportunity to hear Dr. Grandin speak at the Best of the Best ceremony.
Tune in to below to hear our full conversation and learn more about Dr. Grandin. You'll also learn:
The impact that nature and outdoor play had on Dr. Grandin from a young age
Current barriers to play and recreation for individuals with autism and others who think differently
How Dr. Grandin's collaboration with Play & Park Structures is one of the first to address the needs of neurodivergent individuals and those with different minds who have different play needs and styles
How park and recreation agencies can make their offerings more inclusive for every member of their community
Why Dr. Grandin is excited to speak with park and recreation professionals at the 2022 NRPA Annual Conference, and more!
Listen to the episode for the full story.