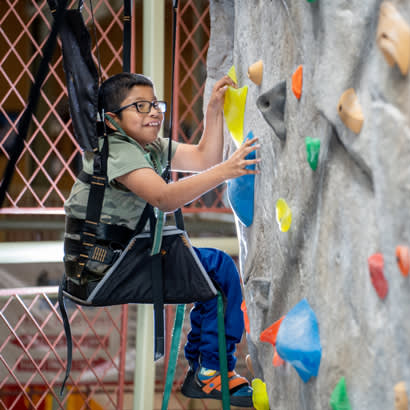 It may still be June, but it is officially Park and Recreation Month in our hearts, as the July issue of Parks & Recreation magazine is out now. As you may know, each year NRPA hosts a cover contest leading up to July, with the winner being featured on the July issue of the magazine.
If you've seen this month's cover (also pictured on this page), you will notice a smiling young boy in adaptive climbing gear scaling a climbing wall. We are so grateful that Joe Van Wyk, the marketing coordinator for City of Glenwood Springs Parks and Recreation in Colorado, captured this moment and submitted this photo of Isaac Alonso, which captured all of our hearts immediately.
Once we learned the story behind the photo, we knew we had found our winner.
I am so thrilled to be joined on today's episode by Laine Fabijanic, the community and therapeutic recreation supervisor for City of Glenwood Springs. Laine has been instrumental in building the community's therapeutic recreation program, and is doing some really incredible work when it comes to providing access to recreational opportunities for all, despite their perceived or actual limitations.
Laine has been a Certified Therapeutic Recreation Specialist since 1998, and over the years she has worked across the country and throughout the Roaring Fork Valley in Western Colorado in clinical settings, outdoor adventure and community recreation.
Tune in to the full episode below to learn more about Laine and the impact she is making, as well as how this program is helping Isaac, the boy in the photo, and so many others. You'll also learn:
The unique challenges that children with disabilities face when it comes to recreational activities and how therapeutic recreation addresses them
How Glenwood Springs' climbing program adapts the climbing experience to meet the needs of each climber
Why Laine has loved watching Isaac participate in this program and how his family has been involved
How community engagement is at the center of this program
The importance of meeting the specific needs of all members of your community, and much more!
Listen to the episode for the full story.
Related Links: